We made it; we survived Thanksgiving dinner and Black Friday and we hope you did too! The holiday soiree season is just beginning, and you probably already have a few party invites pending. Assuming you'll RSVP with a yes to all of them, we are here to share our holiday hostess gift guide so you don't show up to these parties empty-handed.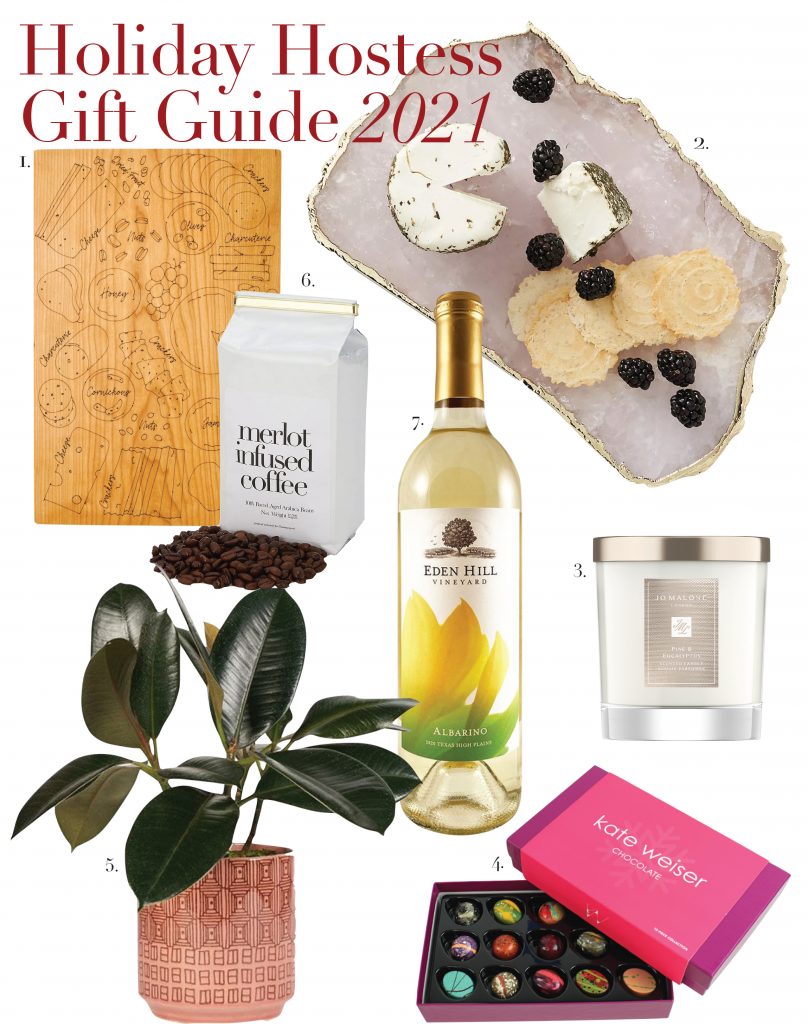 1. Bakermama Signature Board ($99.99)
The Bakermama Signature Board is the perfect host gift. Who doesn't love a charcuterie board, but who truly loves putting them together? This board makes it easy, brilliantly dictating where each item should be placed to yield the perfect charcuterie board. It is like painting by numbers except you can eat your creation at the end!
2. Anthropologie Agate Cheese Board ($78)
The Agate Cheese Board from Anthropologie brings luxe to the most basic of snacks. With this agate board, your host or hostess can create an elegant charcuterie board, serve appetizers or elevate a dinner spread for two. The tray comes in a variety of colors and is easy to clean.
3. Jo Malone's Pine and Eucalyptus Home Candle ($74)
You all know we have a slight obsession with candles (specifically Jo Malone candles). A well scented candle is the perfect host gift. It can be used year round or at the actual party. Plus, most Jo Malone scents are gender neutral which make gift giving that much easier. With over 40 scents, you can choose a scent that best fits the host, or if the options seem overwhelming, we recommend Pine & Eucalyptus.
4. Kate Weiser 15-piece Assorted Chocolate Box ($38)
For the host with a sweet tooth, this assorted box of gourmet Kate Weiser chocolates won't disappoint. Kate Weiser offers an assortment of sweet treats in luxe curated boxes, perfect for any host. If the taste of these chocolates isn't enough, maybe their appearance will seal the deal. Each chocolate is hand painted at their Dallas-based store adding a level of artful sophistication to this sweet gift.
5. The Bouqs Co. One Fine Ficus ($74)
We love a good house plant. Plants add a sense of freshness and life to a home. And a well designed vase or pot can often times act like decor. A small, easy to manage plant is a safe bet, but if the hostess is an avid plant lover, opt for something a bit more opulent. Let us recommend a potted Ficus from The Bouqs Co. This dark plant with shiny and rubbery leaves is pretty easy to take care of with basic sunlight and weekly watering. Word to the wise: a Ficus can grow up to 10 feet tall in the right conditions so gift this plant accordingly.
6. Uncommon Goods Merlot Infused Coffee ($20)
Is the host a lover of both wine and coffee? This Merlot Infused Coffee is the perfect gift to wow them with their two loves. Aged in merlot wine barrels, this coffee has subtle wine notes making it the perfect after dinner brew.
7. Eden Hill Vineyard Albarino 2020 ($26)
Last but not least, the perfect gift for the consummate host, is a bottle of wine. We recommend bringing a bottle from Eden Hill Vineyard, a winery based just north of Dallas that uses only grapes grown in Texas. For the white wine enthusiast we recommend this Albarino 2020, one of the many local selections at Eden Hill.
Now be sure to take our holiday hostess gift guide and check it twice as you search for the perfect hostess gift. Maybe you can get a thing or two off the list, but for yourself. You've earned it, we are sure.