"Which countertop should I choose?"
It's one of the most exciting and polarizing questions when it comes to kitchen and bathroom design.
To say there's only one correct answer would be a massive oversimplification given the numerous mesmerizing options spanning colors, textures, and sensibilities.
That's where we come in, uncomplicating the debate to share the pros and cons of your most requested countertops. We hope to add some ease and inspire style when it comes to upgrading these very crucial surfaces in your home.
Wood Countertops
This option offers an immediate, organic warmth to the heart of any home. Typically affordable, wood countertops are often a great option for budget-conscious projects—not to mention, they are naturally antimicrobial!
Keep in mind, wood counters are less heat- and water-resistant and require consistent maintenance. We're talking regular oiling and the occasional sanding.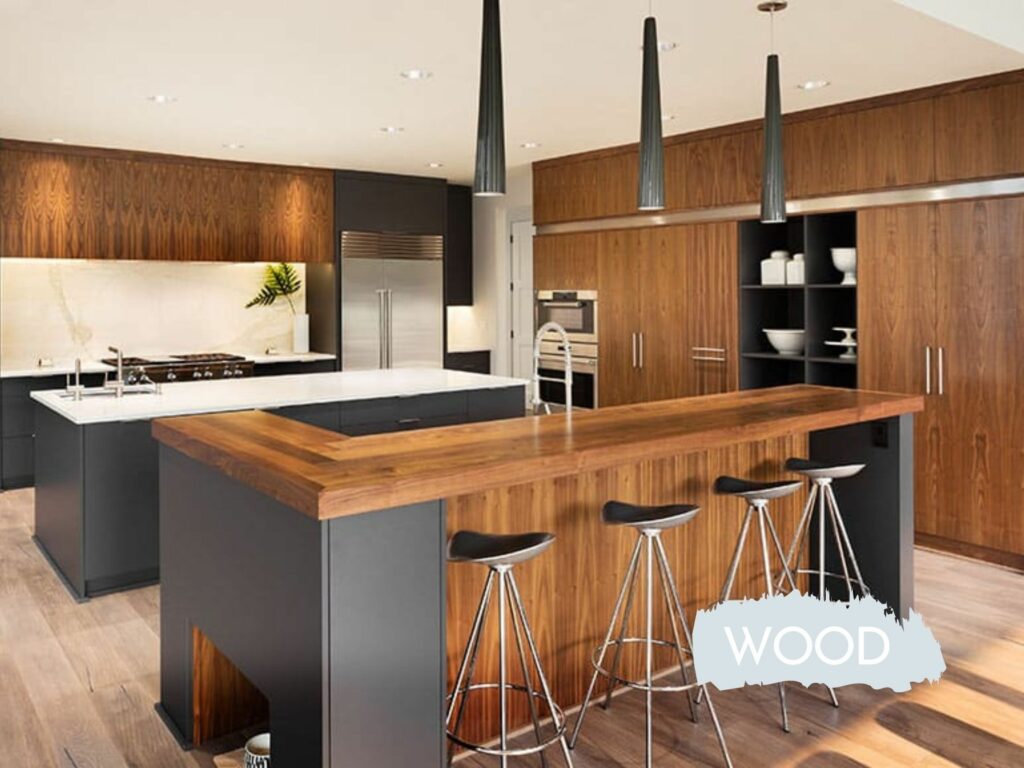 Granite Countertops
Many hear granite and think of the dated, cringe-inducing speckled surfaces of the early 2000s, but this stone is far from outmoded.
Take a look at the gorgeous slab in our Preston Hollow project to see what we mean. We've coordinated the statement granite with a neutral quartz for a harmonious blend of the two.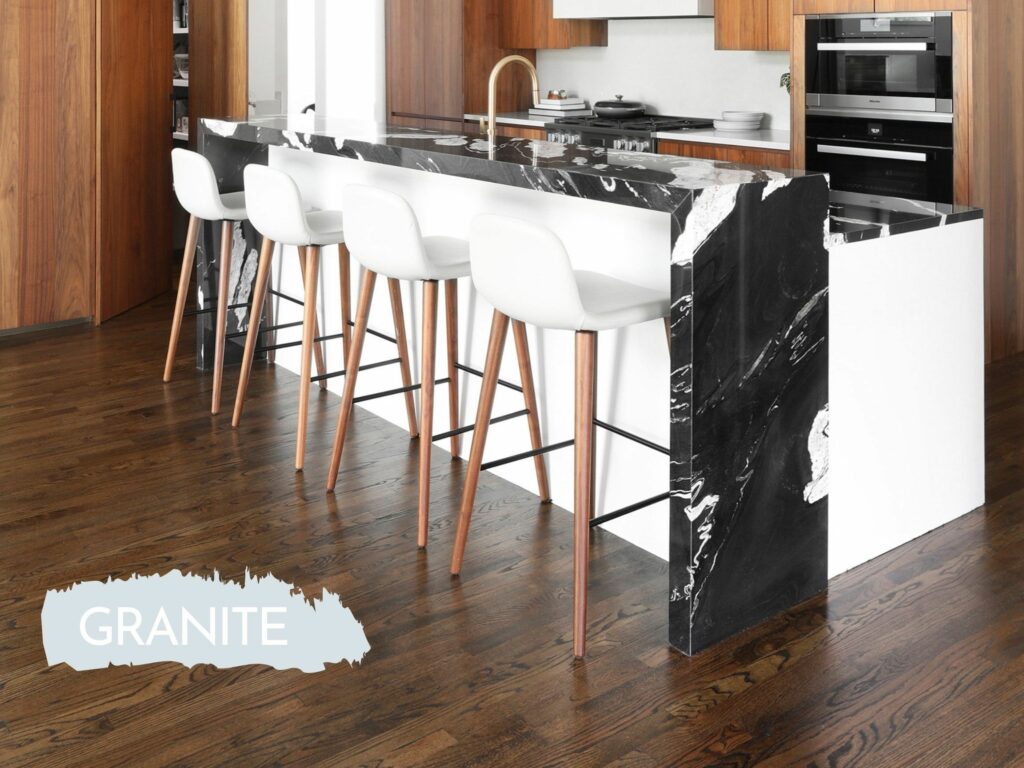 We love that Granite is available across the globe, in a range of incredible colors with different movements and textures. Granite is sturdy but it's still a natural, soft stone—a living, breathing organism requiring some care.
When maintained and sealed properly it can handle direct heat, water, and stains well.
It should be noted that due to its durability, Granite is also extremely heavy and requires significant support when installed. If granite still is a contender for you, we say go big or go home—the more exotic the better!
Marble Countertops
There's no denying the incomparable beauty that marble sparks. It delivers on highbrow design, plus scores with a variety of colors.
Safe to say, it's easy to fall in love with a marble countertop. But for those who prefer low-maintenance surfaces, this may not be the ideal choice.
Marble is a soft, porous stone and is sensitive to scratches and stains. It's imperative to seal the counters approximately every one to two years.
Additionally, this stone often lands higher on the budget and requires expert installation.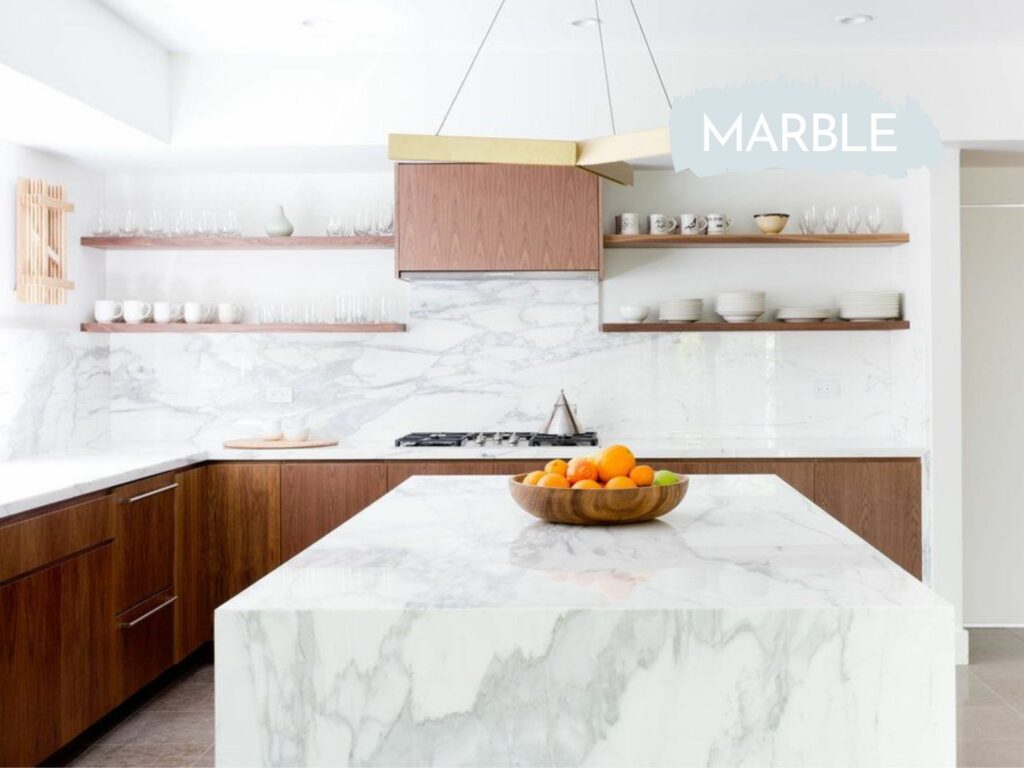 Quartz Countertops
Quartz is the laid-back cousin to marble. Man-engineered and extremely low maintenance, quartz doesn't require sealing and can resist stains and withstand high heat.
However, this material can somewhat mimic the look of other surfaces, bringing elevated design on a budget.
Artificially created Quartz does not have the same depth as marble does. It can show visible seams, so working with a professional designer to source the best quality product is a must.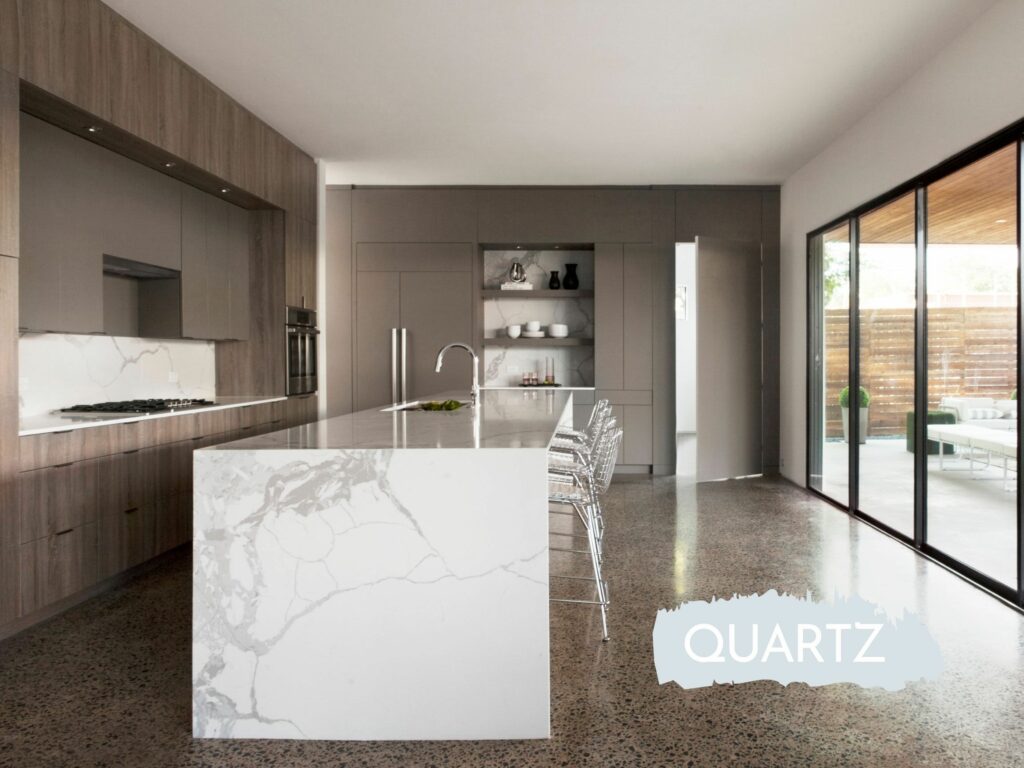 Quartzite Countertops
Similar to quartz, quartzite is a man-made material built out of composites and natural minerals.
The biggest difference is that quartzite is developed with less resin than its counterpart and, in turn, offers a more natural look with cloudier depth.
Like its quartz companion, this stone has natural antimicrobial properties, a major plus for anyone who tends to ditch the cutting board and dives into a recipe directly on their counters (you know who you are!).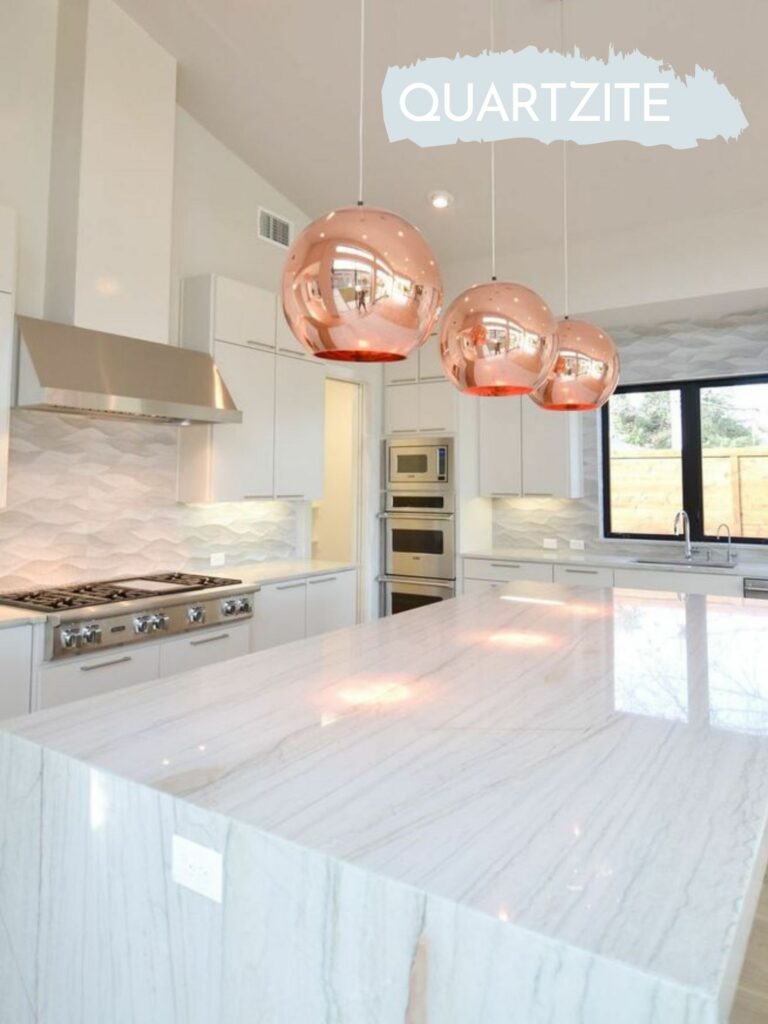 Limestone Countertops
Limestone is a team favorite for bathroom designs. It offers an elevated, neutral aesthetic and meshes effortlessly with bolder interior choices.
We love the sense of luxury this surface invokes but limestone is extremely porous, so we always ensure our clients are aware of the maintenance required for preserving this clastic rock.
Soapstone Countertops
Ideal for kitchen counters, soapstone scores high points of sophisticated edginess. This showstopper stone has light veining and can bring a cool, moodiness to any kitchen.
What this material lacks in a variety of colors, it makes up in character, low maintenance, and durability!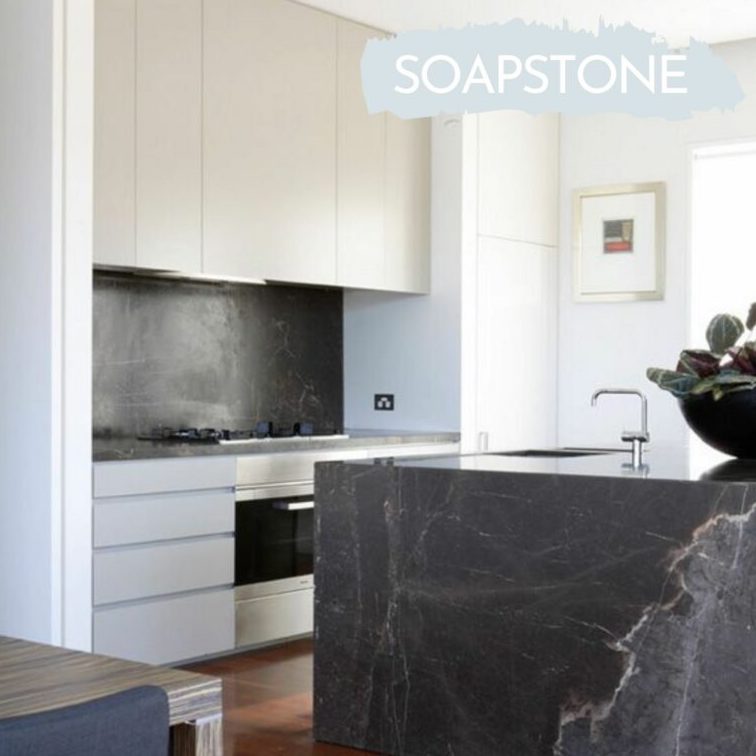 Krion Countertops
This is likely the least familiar selection. We're hardly hush-hush about our obsession with Porcelanosa, and their latest creation is no exception.
Krion is a completely ecological and natural mineral, solid surface similar to natural stone. A true innovation, this material is virtually indestructible and can be manipulated easily.
This comes in handy to create seamless moments across surfaces and even being particularly forgiving with accidents that other surfaces can't withstand.
Another antimicrobial option, this countertop also boasts natural air purification qualities that our clients can't get enough of.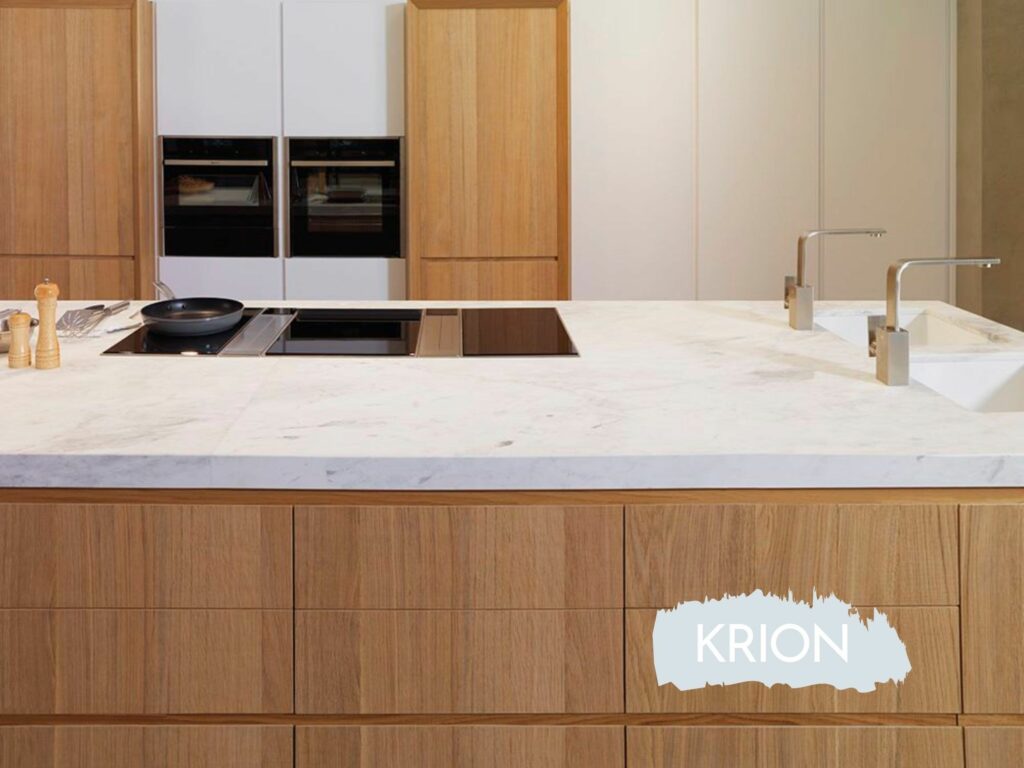 Porcelain Countertops
While these surfaces have gained traction internationally, our U.S. clientele has only recently realized what all the excitement is about. Porcelain countertops are made from non-porous ceramic clay to create a surface resistant to scratching and heat.
We're a bit biased given our love of this option, just look at our Plano project's glossy porcelain countertops below! This is an incredible option for anyone who truly lives in the kitchen.
Our biggest note: Porcelain can be extremely dense and professional labor and skill is necessary for a flawless installation and finish.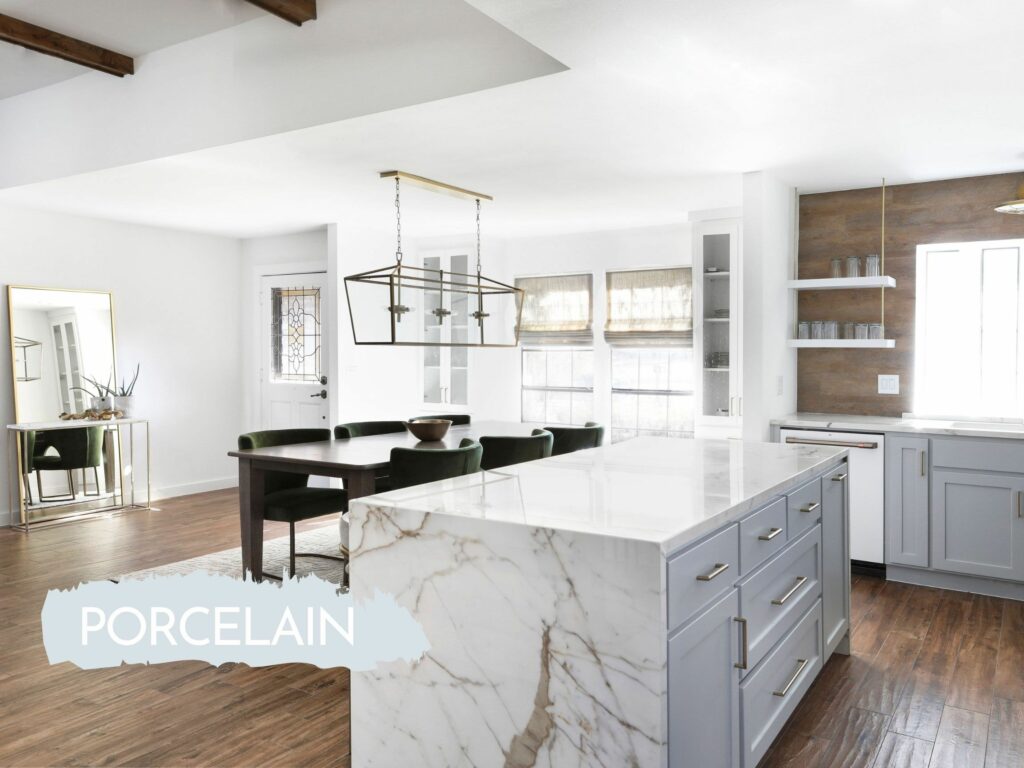 Ready to get started on your kitchen redesign? Contact us.