Every year the Dallas Business Journal releases their coveted list of nominees for their 40 Under 40 Awards. It is an exciting time in North Texas as individuals who are leaders and tastemakers in their own right get to be recognized for their work and accomplishments in their respective fields. No matter the industry, whether they are up-and-coming or well established, the Dallas Business Journal's 40 Under 40 list is composed of entrepreneurs, executives, influencers and community leaders that all represent what it means to be innovative and thought provoking.
Eligibility
The eligibility criteria for the 40 Under 40 Awards is pretty self explanatory and must be accurately followed in order to be considered. According to the Dallas Business Journal, the criteria is as follows:
– Nominees must reside and be employed in the following North Texas counties: Collin, Cooke, Dallas, Denton, Ellis, Grayson, Johnson, Kaufman, Parker, Rockwall, Tarrant and Wise.
– In order to be considered eligible, nominees must be 39 years old or younger as of January 1, 2022.
– Chosen honorees are required to attend the awards presentation July 21, 2022. Inability to attend the awards event is an automatic disqualification from the program. Honorees should also expect a photo shoot, in addition to a Q&A-style interview, before the awards program with our editorial team. Failure to make time to complete these assets will also result in disqualification from the program.
– Self-nominations are NOT permitted for this program.
– Only one person per nomination is permitted. If you wish to submit more than one person from the same organization, you must submit separate nominations for each individual. You can note that you would like the nominees to be considered together, but the nominations cannot be guaranteed to be mutually inclusive.
– Individuals will not be considered for a program that they have already participated in.
– Individuals may only be selected for one Dallas Business Journal awards program within a 12 month period. If an individual is chosen for one program, then he or she is automatically ineligible for any honoree awards program for 12 months. Special consideration will not be given to individuals that wish to be chosen for the 40 Under 40 program, but have already been recognized within 12 months.
A few additional tips to consider (that may really help during the nomination process), are that nominations that are not fully completed or that just feature resume information will not be eligible or considered. Also each essay question needs to be answered in complete sentences so don't simply reply with the use of bullets or hyphenated lists.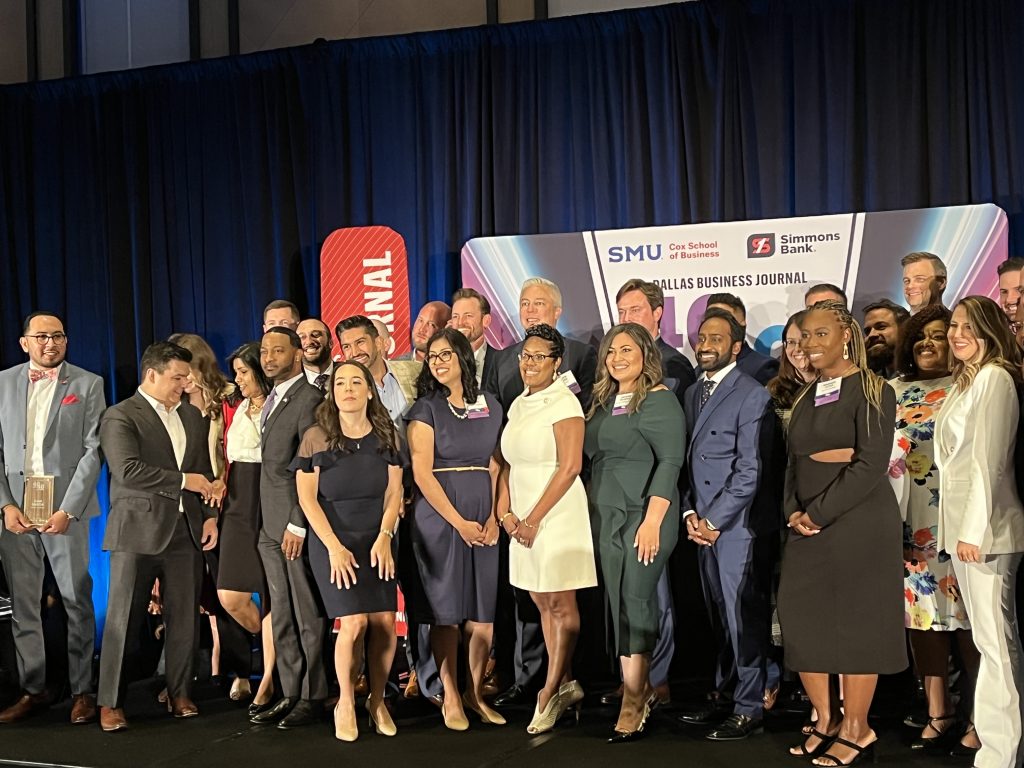 Now, to the really exciting news! This year, our very own Juliana Oliveira was nominated and awarded a 2022 Dallas Business Journal 40 Under 40 Award! Juliana, along with other dynamic leaders from CBRE, Drive Shack, Smooth King, City of DeSoto and Baylor Scott and White Health, gathered at the 15th Annual Dallas Business Journal 40 Under 40 awards event to help honor this year's award recipients. 
Each recipient took part in a photo shoot and Q&A as part of the nomination process. When Juliana was asked, "What would you like to accomplish throughout your career?" She responded:
I would like to bring awareness to the current lack of diversity and inclusion in the design industry and advocate change that starts with supporting the new generation of designers.

I strive to be a positive example to other people of color who dream of occupying this very competitive field and prove that each person's diverse perspective is a gift and competitive advantage and not a weakness.

I want the success of my company to bring to light that you don't have to play small as a designer, you can dream big, build teams and break ceilings!

Juliana Oliveira
The event sponsored by the SMU Cox School of Business and Simmons Bank was held on July 21, 2022 where the nominees were handed their awards in a live ceremony. After a quick acceptance speech and a few photo ops, it was time to celebrate! 
Congratulations to Juliana and the rest of this year's award winners! Do you know someone who should be nominated for next years Dallas Business Journal's 40 Under 40 list? Be sure to check out the Dallas Business Journal website for more information.