Through our years, trends have rotated, but a modern, luxury kitchen has always remained a design constant. There's nothing quite like it.  Designing a kitchen is undoubtedly in our wheelhouse, however, we take extra pride in the fact that the kitchen is often the soul of our client's home and these projects require expertise and the utmost care. The kitchen has evolved into a space that not only offers a place for food preparation, but a space to gather around the island, enjoy a morning meal, conquer the work day and so much more.
Our BEYOND id clients often ask for this sleek, luxurious look in their cookery, so we are here to share the inside scoop on five essential components to capturing the iconic, modern kitchen look in your very own digs.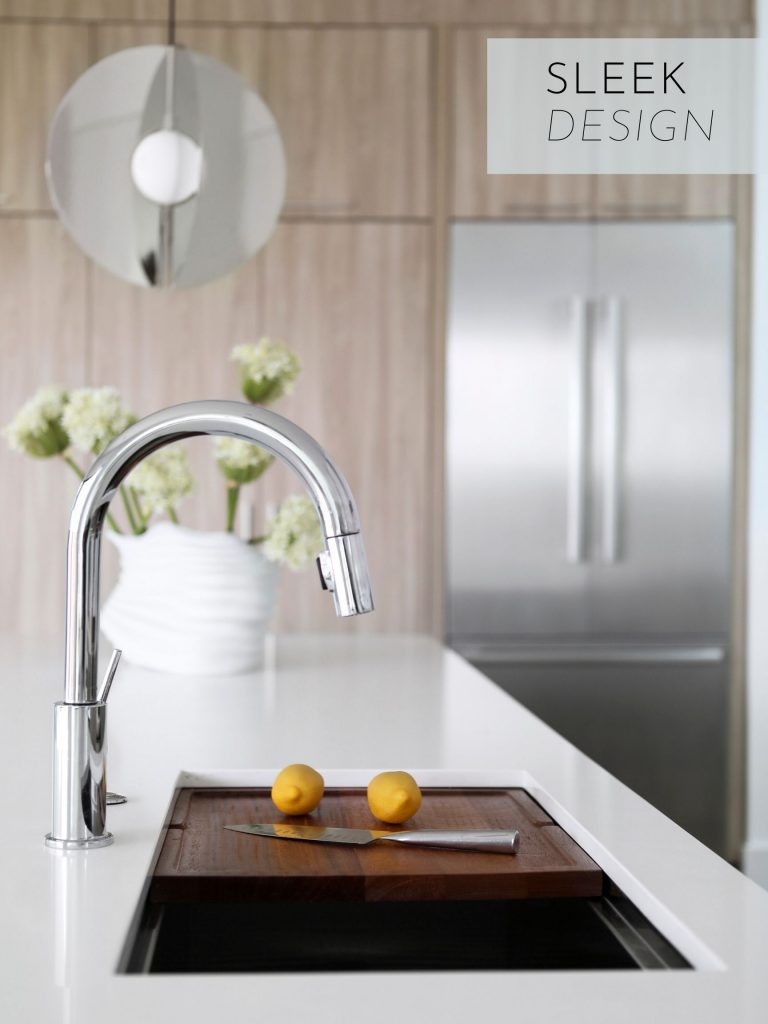 1. TOP OF THE LINE APPLIANCES FOR A MODERN LUXURY KITCHEN
A beautiful kitchen is just that without the best appliances to ensure its functionality as well. With a modern, luxury kitchen, the appliances should often seamlessly blend into the design. Sometimes this calls for a refrigeration cabinet that can be concealed by the cabinetry, This offers a customized, high-end finish while providing continuity throughout the space. 
Additionally, for those of us looking at alternative cooking method appliances, a combi-oven could be a viable option. Combination ovens include various features like baking, broiling, poaching, roasting, steaming, and warming and can prove useful for those who are often preparing food for bigger families or hosting events. 
Some of our tried and true kitchen appliances are included below. Not only are they built to last, but they are crafted beautifully to further enhance the refined aesthetic.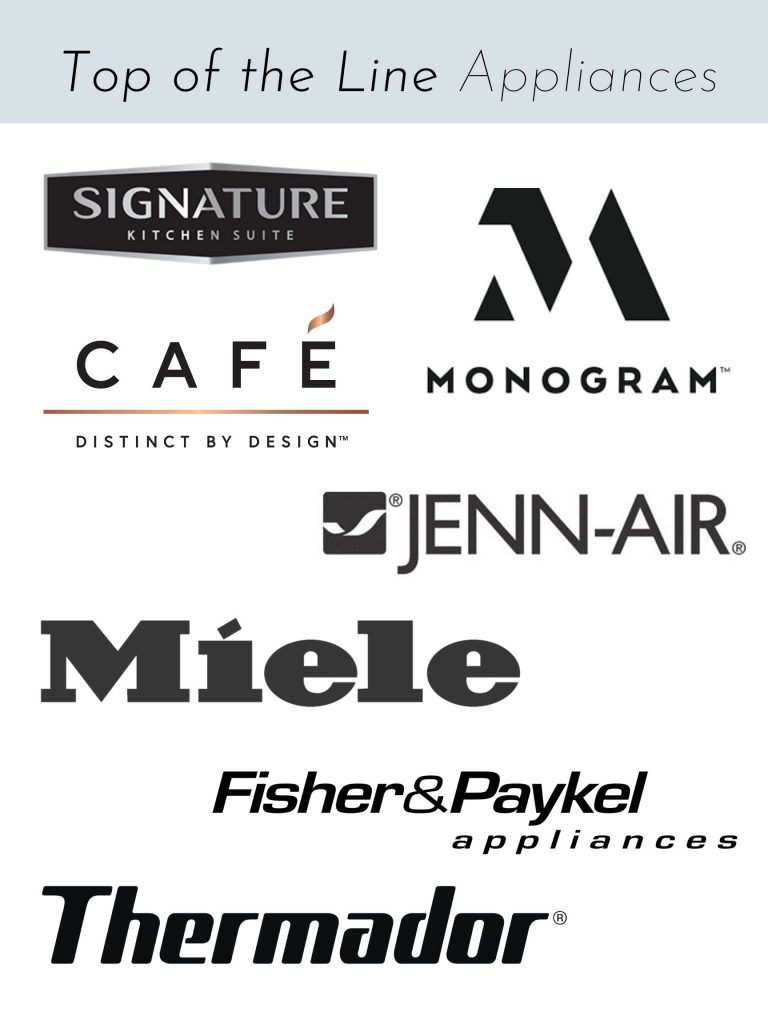 2. STATEMENT HOODS 
Another appliance every modern, luxury kitchen can not be without is a chef-style hood range. This deserves its very own category due to the fact that the hood range serves as a major design accent within our sleek designs. From a minimalistic cylinder to a bold, custom, mirrored option, each hood should serve as a masterful design piece, elevating the space. To ensure that the thoughtfully chosen statement hood is highlighted further, we recommend integrating open upper cabinets like floating shelves or just removing the cabinets to allow for negative space surrounding the hood. This spotlights the oversized, decorative hood without forcing too many elements to compete for attention.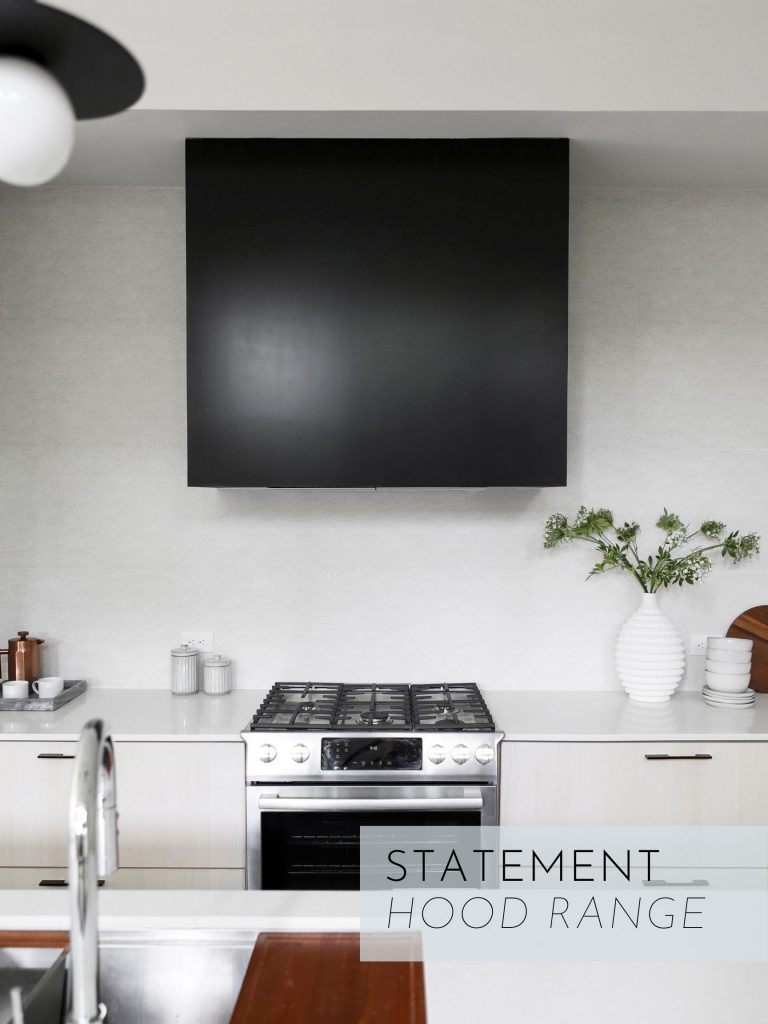 3. OVERSIZED ISLANDS FOR A MODERN, LUXURY KITCHEN
While this may seem a bit on the nose, an oversized island is integral to the coveted modern, luxury kitchen. As we mentioned earlier, the kitchen has transformed into a multi-use space, thus significant surface area is key. The oversized island must include plenty of space for cooking and lounging, not to mention being finished with an eye-catching countertop (which we will get to momentarily). Regardless of whether you choose a glossy or matte counter, it should be surrounded by bountiful, comfortable seating. For more insights on how to choose the ideal countertop stools, check out our previous blog.
And while an oversized island presents an unmistakable sense of luxury, there is something even more deluxe. Two islands, of course! A double island is a sumptuous feature that will offer a jaw-dropping statement in addition to more space for congregating within the heart of your home.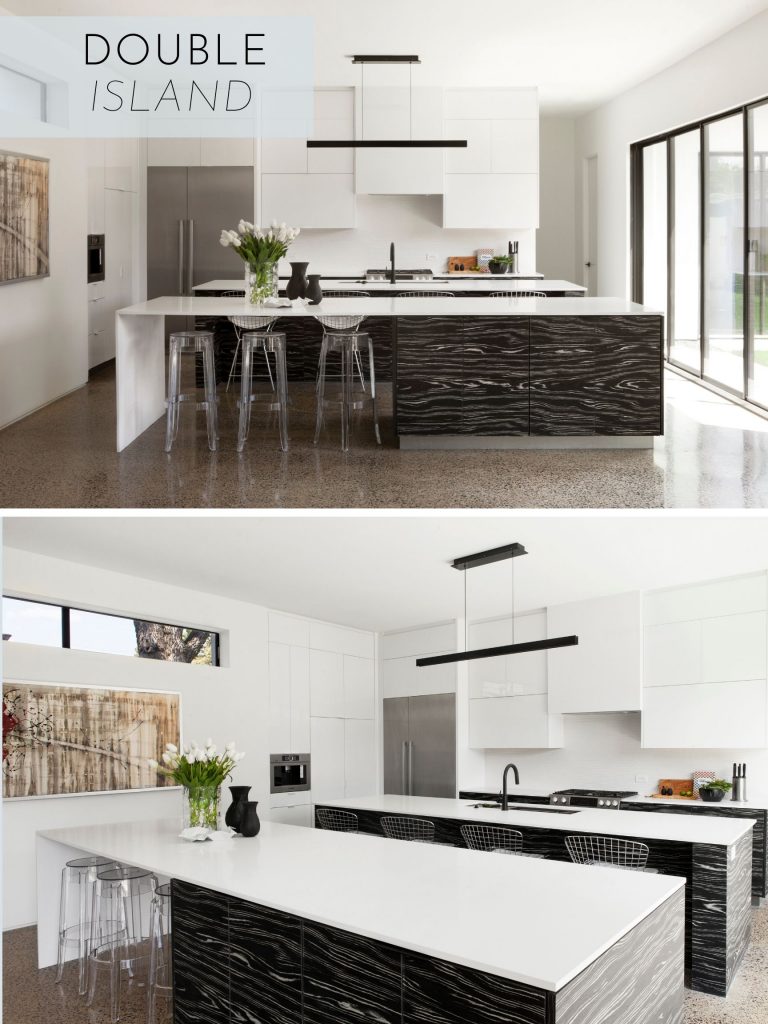 4. AUXILIARY SPACES
One of the most important factors of modern design is the efficient usage of space. Some of the mindful kitchen storage elements that we're partial toward include towers of cabinetry that draw the eyes upward, concealed pantries (hidden storage is always a good thing!), passthrough and butlers pantries. The latter is an ideal option as it can house most everyday small appliances while keeping the kitchen refined and tidy.
Well-considered storage is one of the great benefits of modern kitchens as it forces us to eliminate the clutter. For detailed tips on how to maintain your kitchen organizational system, explore our NEAT Method partner highlight.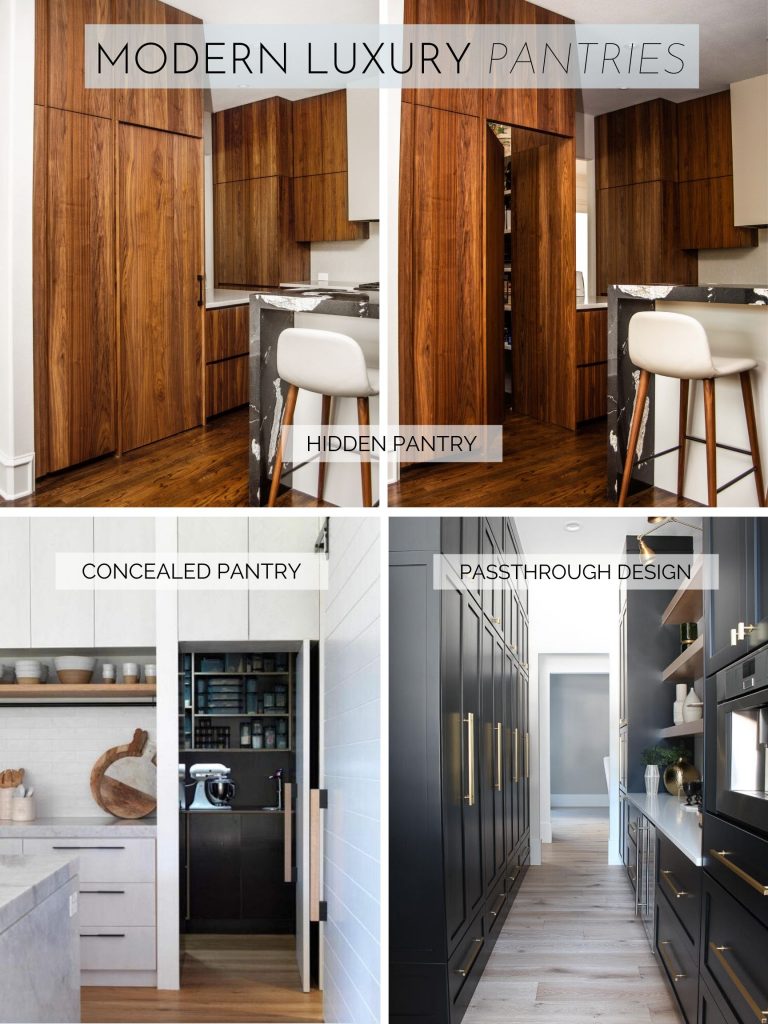 5. BOLD FINISHES FOR A MODERN LUXURY KITCHEN
Often the most exciting pieces to harnessing the luxury, modern style, are the finishes. Our BEYOND id team is dedicated to sourcing these features for a tailored design. This includes stunning countertops with mesmerizing veining and bold, intricate finishes on the cabinetry like an exotic wood veneer to complete the space. Every decision made during this process is critical to accomplishing this sought-after style.