The term handmade has a debatable meaning. When taken literally, we can all agree that the term describes something made by hand. However, there is some debate within the design community on whether or not the object or piece in question must be completely made by hand or if it could be partially created with the help of a machine. Either way, the term handmade evokes the perception that an object is of higher quality than one made by a machine.
It also reminds us of objects that are made of more natural materials including paper, wood, concrete or even plaster. Such items provide a calming aura, often ground a space, and provide some softness to a more modern or cold space. With artists pushing the boundaries of design and the help of technology, handmade pieces are now more sophisticated than ever. Here are a few of our favorite pieces that take a modern approach to made by hand.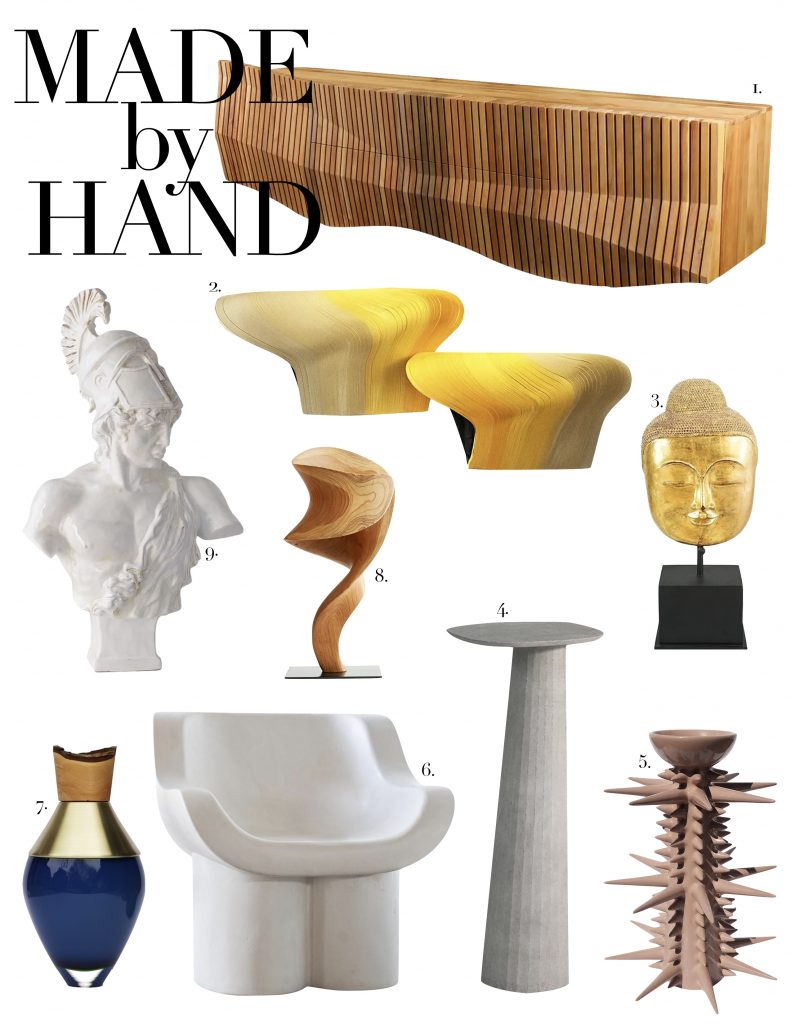 Modern Organic Credenza ($100,000) Designed by artist Richard Simpson, this credenza is made from a matai tree that was rescued from a river on the West Coast of the South Island, New Zealand. The tree which naturally fell in nature has been carbon dated to over 1,500 years old.
Paper Wall Mounted Shelves ($8,734.63) This set of angular-shaped shelves made with strips of paper are designed by artist Daniele Papuli. The shelves are multifunctional and can be used as a utilitarian piece or as pieces of modern art.
Papier Maché Buddha Mask ($2,000) This Buddha mask and customized stand are over four feet in height adding to the already demanding presence of this gilded, papier maché piece.
Fusto Silver Pedestal ($2,805) This slender accent table is made of ultra-high-performance concrete colored in a silver hue. It has been sandblasted and hand-treated with water repellent products. The table adds a subtle touch of nature to the room while still being strong and durable. 
Ceramic Ceiba Candlestick ($1,600) Tony Moxham and Mauricio Paniagua are the masterminds behind this ultra-modern, spiked ceramic candlestick. This piece is heavily inspired by the ceiba tree, native to the Yucatan. Perfect to anchor a minimalist entryway or dining space.
Jimagüa Chair ($14,200) A limited edition piece, this chair made of polished gypsum plaster is the work of artist Reynold Rodriguez and there's only eight available.
India Small Stacking Vessel ($580) This sculptural piece by Utopia & Utility is handmade in Europe by individual craftsmen. The glass is blown in the Czech Republic, the metal is spun in England, while the wood is hand turned in Finland. The materials are then sent to North Germany where they are fitted and assembled.
Arteriors Hissa Sculpture ($750) Carved into a twisted shape, the Hissa Sculpture is made of natural teak wood, unveiling a shape that may remind you of an old-fashioned gramophone. 
Mars Bust ($2,498) Artist George Sellers created Mars by hand carving the sculpture from clay. The plaster casting was then sent to Italy for production in a terracotta-based ceramic. Initially glazed in a signature antique glaze, this bust has been fired twice at 950 degrees.
Which is your favorite handmade piece? Let us know in the comments! By the way, if you love more natural design pieces like we showed you above, check our our post on Living in a Well-Traveled Home!