We've offered inside looks at Beyond Interior Design's modern, luxury designs, but it's time to shine the spotlight on the talented team members like Abbey Latham that bring our works to life. 
Dallas transplant and resident brunch queen, Abbey Latham, serves as a junior designer for Beyond. She was destined for a career in architecture and design from a young age. Her pre-kindergarten classmates wouldn't let her play with the coveted building blocks during recess, but she was determined, boldly snagging the blocks and enjoying her creative playtime inside the classroom closet. As she got older, the games changed, but one thing always remained – creatively building homes and buildings with the resources available. Her mother noticed this gift and suggested she pursue architecture. The rest is history. 
Nearly two years ago, Abbey Latham joined the Beyond, bringing her bright light, determination and meticulous eye for design to the team. Partial to modern, bohemian, and industrial vibes, she's inspired by mixing contrasting elements and to achieve a harmonious balance.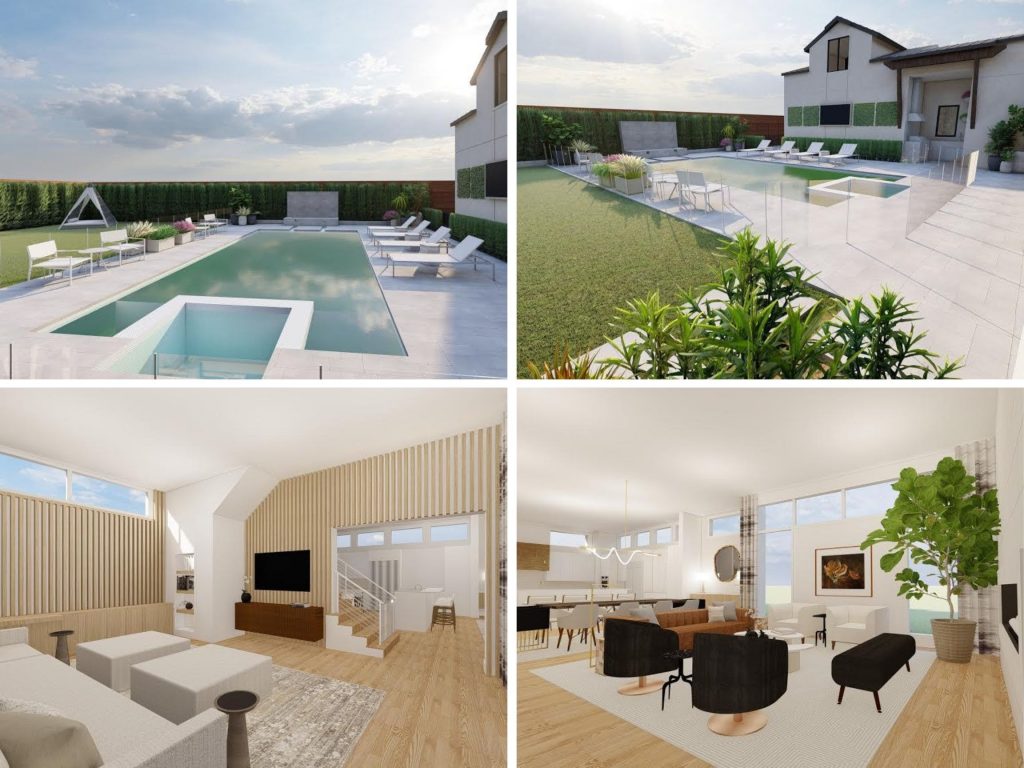 Abbey Latham is currently managing a modern remodel in Plano, Texas, overseeing its inception to, now, its near completion (stay tuned for a BTS look on this project soon!). Through this project, Abbey is implementing some of the latest, effective design technology our industry has to offer – Lumion 3D Rendering Software. Using Virtual Reality (VR), our clients are provided with architectural visualization and can actually virtually step through their designed home to capture the true essence of their to-be space. Peep some of the 2D stills from Abbey's project for a sense of the life-like quality (pictured above). It's uncannily accurate and streamlines the design process even further!
When she isn't diving into work, Abbey Latham spends her weekends caring for her furry friend, Jovie, and enjoying good cuisine with good company. She is in the process of closing on her very own home in East Dallas and we cannot wait to see how she uses her talent to elevate the space!  
Get To Know Abbey Latham with Some Fun Facts:
What's Abbey Latham's dream country to visit?
Can I pick all of them?! Vietnam and Australia.
Heels or flats/sneakers?
Heels!
Vintage or new?
New, I love new ideas of vintage precedents. It shows growth in design and humanity.
What's one vice Abbey Latham won't give up?
Procrastinating things I'm not excited about doing.
Who are Abbey Latham's design/style icons?
Balmain's Oliver Rousteing. He always pushes the envelope with new design trends and everything he creates is the new luxury. BIG's Bjarke Ingels creates forms that are so simple and diagrammatic. He finds a way to make every move intentional and functional, even with obscure figures.
What are three things you can't live without?
My support system, Fall weather, and Oreos. 
What's Abbey Latham's current TV obsession?
True crime documentaries. I just finished HBO's docu-series I'll be Gone in the Dark.
What's your favorite time of day?
I am a night owl, for sure!
What's Abbey Latham app?
The Tasty app, it's full of unconventional recipes and cool tutorial videos to help you along the way.
Favorite piece of furniture you own?
I'm most excited about this acid washed metal buffet for my dining room. It's like an art piece in itself. 
Favorite design trends from Abbey Latham?
Organic, almost rounded, shapes with the nubby fabrics. And incorporating wooden slatted walls for a custom decorative feel.
What's Abbey Latham's paint color(s)?
Sherwin Williams taupe pallets: Requisite Gray, Agreeable Gray, even Accessible Beige. Their Black Magic is a great black paint option too! Currently, I'm considering paint colors for my new front door, maybe Wallflower or Spangle.
Best piece of advice you've received?
For every bad thing that will happen to you in your life, something good will always come out of it. Whether it be a lesson or a resolution. Don't allow the bad to mask all of the good.
A book that Abbey Latham thinks everyone should read?
Tuesday's with Morrie.
Abbey Latham's Favorite hidden gem in Dallas?
Ebb & Flow in Deep Ellum.
Does Abbey Latham opt for candles or diffusers? 
The Smoked Tonka candles from West Elm.
What is Abbey Latham's go-to for having a good laugh?
New Girl. I have watched and rewatched that show about 7 times and I still laugh.