Art and interior design come in a variety of shapes and sizes, and sports-inspired design is not to be excluded. This type of luxury interior design focuses on developing a sophisticated space that tells a story playfully with touches of athletic paraphernalia or even more artistic appropriation of sports-related materials. From a game room to a world-class sports facility, each space is crafted for both enjoyment and style.  
We are always creating new ways to infuse more of our clients' personalities into their space to make each home truly feel like their own. Each room translates their story, passions, and aspirations, so what better way to do that than to integrate their favorite athletic ventures through sports-inspired design. So let's dive into some of our favorite examples of athletic design, both big and small. 
Malibu Game Room

By Romanek Design Studio
Forget the drab and dark game rooms of yesteryear. The game rooms of today are elevated and bright, inviting every guest to take part in the scene. We're in love with Brigette Romanek's design, complete with skylights, varied textures like those sheepskin stools, and floor-to-ceiling windows. Currently waiting for our invite to this game night!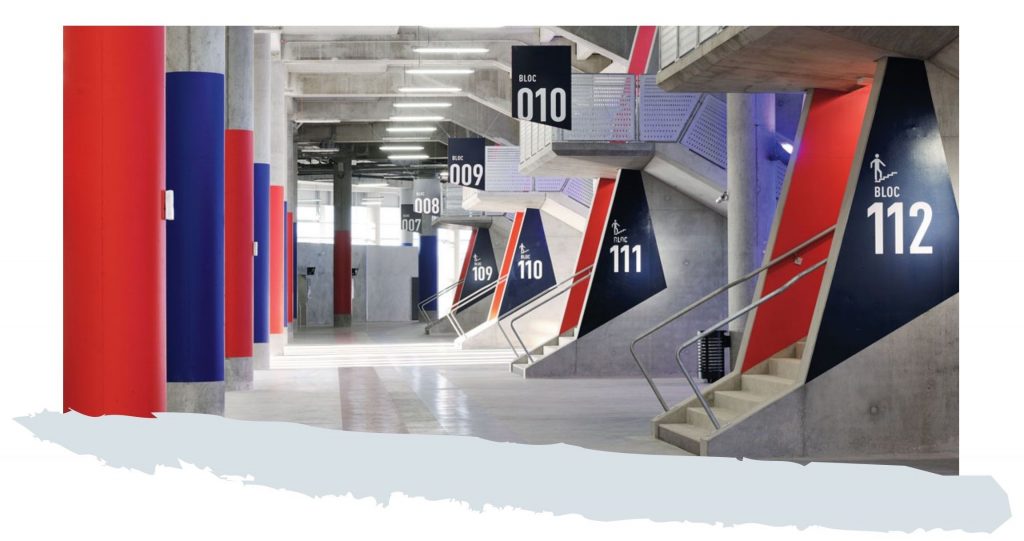 Olympique Lyonnais Stadium

by Naço Architecture and Populous
Shifting from small spaces to massive spaces, this stadium's design wows us! How incredible are the team colors, the sharp angles, and the industrial feel. This concrete structure is a statement of strength and pride, the perfect energy when getting ready for a big game on the field or cheering from the stands.
Valencian Pilota Court

by Mercader de Indias
This restaurant is the quintessential destination for any and all lovers of Pilota. The longtime game is beloved by many countries and this Spanish restaurant transformed that passion into a finely designed dining experience. Take a look at the custom backlit numbers that represent the court. Not to mention the eye-catching sculpture above, built of pine twig! 


Nike's Midtown Office

by Studios Architecture
Would this round-up be complete without at least one space from the most influential sports brand in the country? Nike's Midtown New York offices have been crafted with immense detail and flair. As you explore the multi-level space, each corner embraces the brand's essence. For example, the kitchen area grabs your attention with a ceramic-tile mosaic of Michael Jordan in his iconic dunk shot. How can you not be inspired to make groundbreaking moves in this space?


World Class Aquatic Facility

by Vox Architects
This aquatic center is nothing like the ones we spent our adolescent summers at. This space pulls inspiration for mid-century modern and futuristic design in the best ways possible. Join us in ogling the stretched ceiling system made of PVC fabric and the stark contrasting colors. What a mesmerizing visual! Will someone please let us know how we can sign up for swim lessons here!?