Up your lavatory game with the 5 biggest bathroom design trends we are witnessing with clients and across the industry. However, today we are here to report that less is more, so much more. The glam bathroom of yesterday is out and the peaceful, sanctuary of your dreams is in. Get ready to exhale!
IT'S ALL ABOUT THE BATHING ROOM 
Intricate designs are no more, the bathroom design trends are now an inviting, luxurious oasis. Steam showers, to be specific, enveloped in natural finishes, bring the elements of nature within every textile and texture. We're seeing ergonomics, curbless design to create an inviting sense of harmony. For those with room to spare, take the design beyond the showers to create a full bathing room, complete with bathtub, shower, steaming features and space to roam. Who needs a spa when you have a safe haven like this at home!?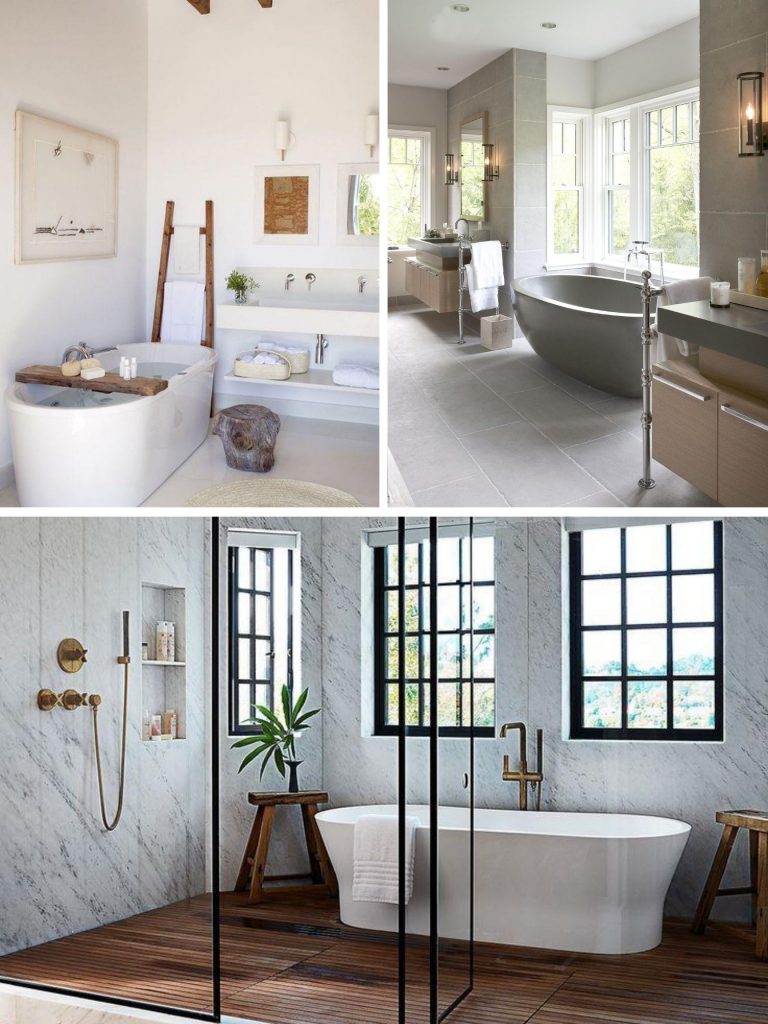 SMART FEATURES ARE A MUST BATHROOM DESIGN TREND 
We never shy away from smart home features, they streamline the environment and elevate the quality of life. A less than expected option that we encourage when optimizing your water closet and your health is a smart toilet. With bidet functionalities, self cleaning bowls (farewell germs!), temperature controlled seating and more, there's so many reasons to say yes. So long to those old clunky fixtures and hello to the sleek, modern design of our brand favorites like Kohler and TOTO. 
SAY YES TO THE STATEMENT MOMENTS BATHROOM DESIGN TREND
Two major design obsessions we are seeing across stylish bathrooms everywhere are the face to face vanities and wallpaper. The first offers a beautiful sense of balance and symmetry to the bathroom. Not to mention, the functionality and additional space is a plus for couples who need all of the storage they can get for their numerous toiletries and cosmetics (you know who you are).
We've seen wallpaper make a loud comeback within design but recently it's been found in more unexpected places. While we know and love a patterned powder room, the trend is quickly spreading to bigger bathrooms, even in the more water-prone spaces of restrooms. Waterproof, wallpaper around baths and showers is catching the eyes of many and we're loving it.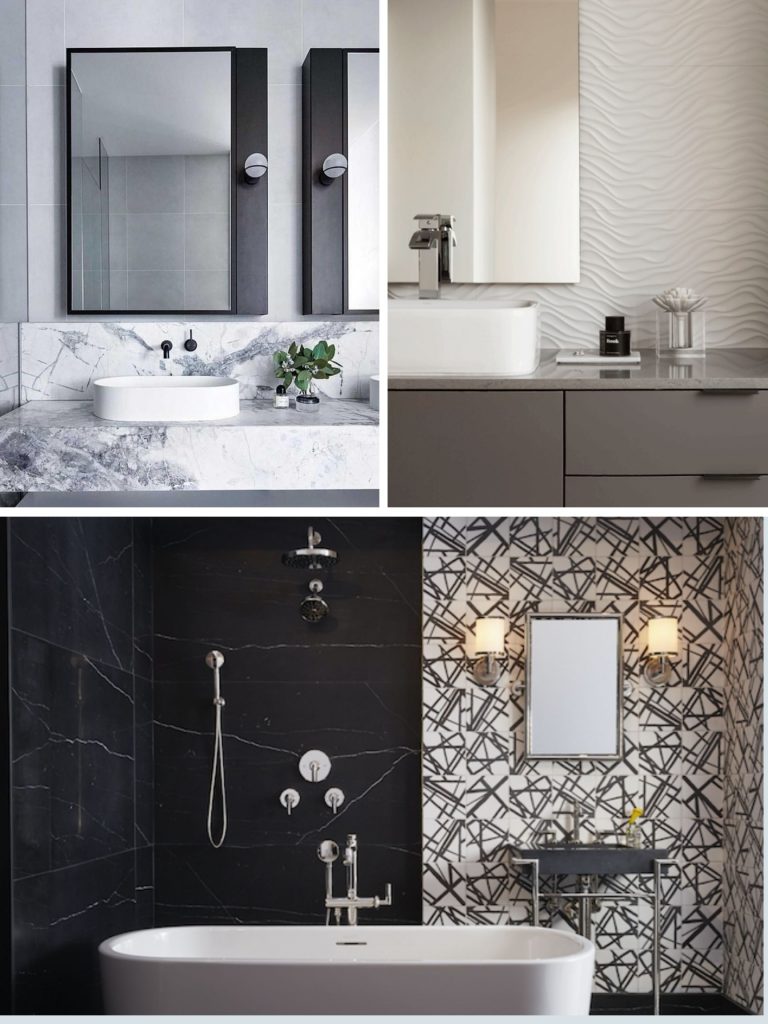 BRINGING NATURE INDOORS
Essential to curating a serene, spa-like environment is the presence of soft natural light and the great outdoors. Integrating biophilic design and raw, modern design touches enhances the connection with nature and with the elements. Incorporating plants, large windows, reclaimed woods, stones and organic textures improves the aesthetic and inspires relaxation as soon as you enter. Your well being can thank us later!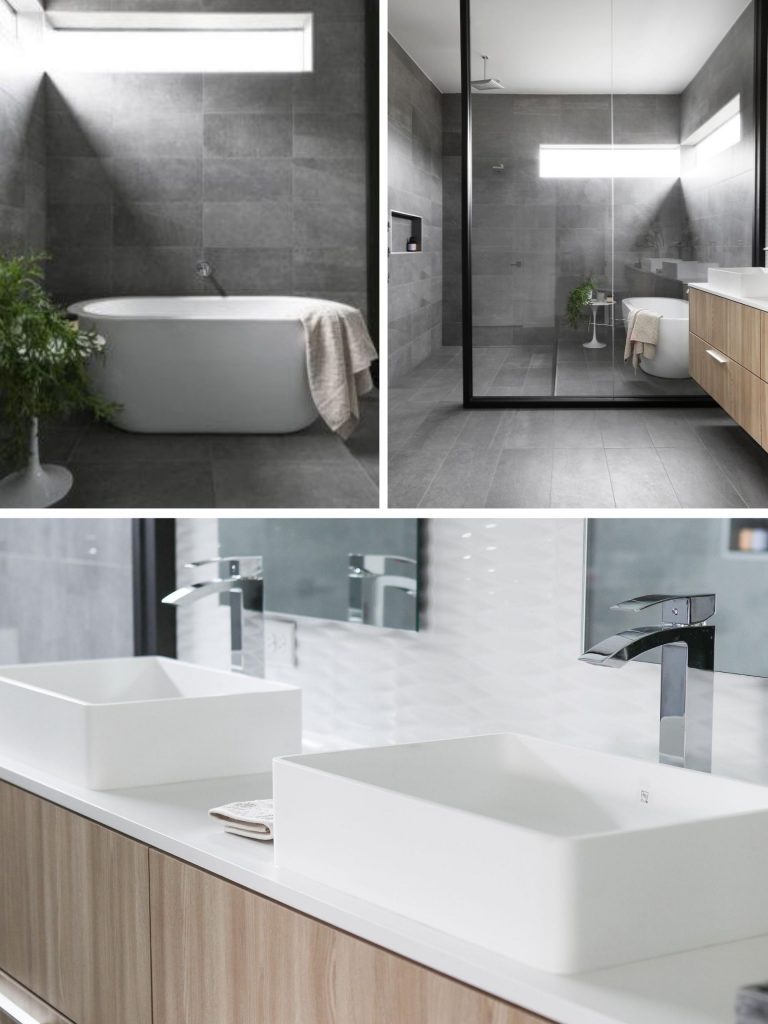 WELLNESS BATHROOM DESIGN TRENDS
The finishing touches to developing your wellness-inspired lavatory may look small but come with big impact. When you can't rely on an abundance of natural light, the next best thing is circadian lighting, which is programmed to benefit your body's natural circadian rhythm. By programming the lights to put off the correct amount of light at the correct color temperature, it is less disruptive to the body and aids in mood and concentration. 
Top off the ambience with the perfect balance of aromatherapy and soundscapes (we promise you'll be transported to your dream spa). Creating a sensory experience through sound and smell can significantly, improve stress levels and lessen cortisol levels. It's up to you to discover which soundscape matches your spa paradise and pair it accordingly with your essential oil diffuser of choice. We're partial to waves crashing on the sand and a generous waft of eucalyptus.