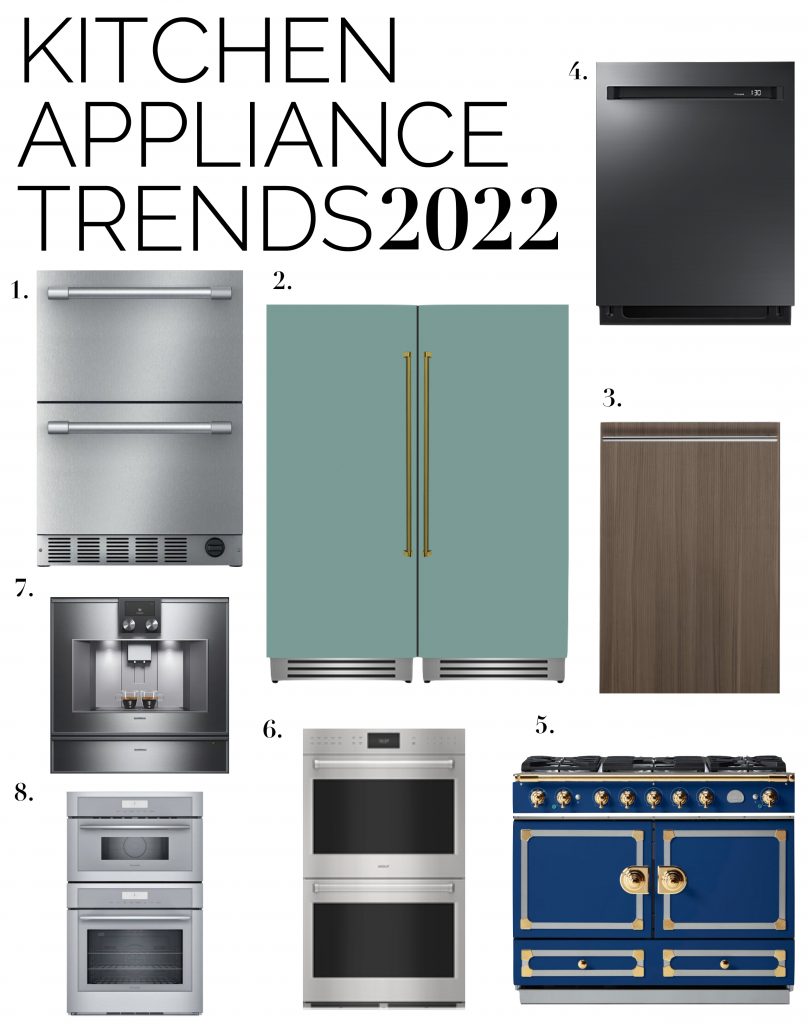 The design world is ever changing and kitchen appliances are no exception. With technology influencing how they function and with more emphasis being put on aesthetics, appliances are having a hard time keeping up with each other. New digital features and sleek finishes are making simple kitchen appliances into much more than that. They are now what people talk about when they sitting around the kitchen island. These are 8 new appliance trends in luxury kitchens.
Dishwasher Drawers
Dishwasher drawers are an efficient new trend making their way into your kitchen. The stylish, versatility of this appliance gives homeowners the flexibility to choose both drawers independently and allows each drawer to be programmed with different settings and temperatures. The Fisher and Paykel Double DishDrawer™  (shown above / $1,599) provides customizable options, including hardware.
Colored Appliances
Muted kitchens with a neutral palette are certainly our thing, but colored appliances are making a bold appearance this year. The bright palette of a refrigerator or range adds a sense of character and personality to a part of the home that is oftentimes considered utilitarian. What was once reserved for smaller appliances like toasters and coffee makers, is now available for larger appliances that can act as vibrant anchors in the space. The Blue Star Double Column Refrigerator (shown above / Price Upon Request) is offered in bold hues usually only reserved for the fashion world.
Paneled Appliances
In a modern, luxury kitchen, a clean palette is key. With the average kitchen being host to over 7+ appliances, being able to have devices blend into the space is imperative to keep the neutral aesthetic. Paneled appliances are becoming increasingly popular due to their ability to streamline the kitchen. Usually reserved for refrigerators, dishwashers, wine fridges and ice makers are now available to be wrapped in a matching cabinet finish for an integrated look. The Monogram 18″ Dishwasher (shown above / starting at $1,500) offers the aesthetics you desire with the functionality that you deserve.
Matte Colored Appliances
Speaking of aesthetics in the kitchen, the days of handprints and wiping hard water stains from your refrigerator and dishwasher facades are now over. The matte finish is usually offered in black or espresso brown, helping to absorb the trace of prints. The darker palette of the appliances also gives the kitchen a more avant-garde look departing from the usual stainless finish. The Dacor 24-inch Dishwasher (shown above / Price Upon Request) is the perfect example of beauty and power having the capacity for fourteen place settings and the largest cleaning zone available. Available in a noir, graphite finish.Word to the wise: Matte finishes are often more prone to scratches, so proceed with caution. 
Accent Range
If you are going to select one appliance in your home to be the star of the kitchen, we recommend you choose the range. With it being the appliance that pulls most of the heavy lifting, an accent range can create a focal point in your kitchen with a powerful combination of functionality and design. The La Conrue CORNUFÉ 110 Range (shown above / Price Upon Request) is a dream with its cobalt facade and polished brass hardware. It is available with a five burner gas or five zone induction range top adding to its versatility. With a piece such as this, we recommend keeping the rest of the appliances neutral and matching to allow the range to receive the attention it deserves.
Double Ovens
It seems like we are all cooking a lot more these days and double ovens are the perfect way to get through all of those recipes. Although many homes currently have double ovens, they are trending this year for their cooking versatility and new technology. The Wolf 30″ E Series Professional Built-In Double Oven (shown above / $8,080) features 10 cooking modes, Gourmet mode and Sabbath features. Who's coming over for dinner?
Built-In Coffee Makers
What would life be without coffee? And what better way to start the morning than by having a cup of liquid gold drip right from your built-in coffee maker? With many customizable, built-in options available, being an in-home barista has never been easier. The Gaggenau 400 series coffee machine (shown above / Price Upon Request) offers the functionality and accessibility that we all need in the morning. Are there multiple coffee orders in your household? Do not fret. You can personalize individual caffeinated beverages by selecting the grinding degree, coffee strength, water temperature, beverage size and coffee to milk ratio. Save the respective configuration for use at a later time with just the touch of a button. How much easier can it get?
Digital Appliances
Digital appliances have been around for a while, but it seems like every year, they get increasingly smarter. We have all seen the refrigerator with the touch screen panel or the app-controlled range that lets you adjust the temperature from the other room. They definitely make our lives a bit easier. The Thermador Masterpiece Combination Wall Oven 30″ (shown above / $5,999) took it a step farther. Sure, this multi-functional oven offers all of the features that we'd expect, but it is a lot more well connected than we expected. Its WiFi smart appliance capabilities include personalized control, notifications & remote diagnostics via Home Connect app. You can now control your oven from another room and get notified when your the turkey is ready from the comfort of your living space.
Now that you know our 8 new Appliance Trends in Luxury Kitchens. Do you have any trending appliances? We'd love to know! By the way, speaking of luxury kitchens, check out our recent post on Monogram appliances.