Where are most memories made in a home? Where do most gatherings occur where friends and family get to talk about their day, laugh, converse and, hopefully, prepare a meal or two. The kitchen. We consider the kitchen the heart of the home and the anchor of your living space. So why not design it to be just that? With the perfect mix of aesthetics and functionality, your kitchen can seamlessly jumpstart your day while calmly wrap up your evening. Let us break down the anatomy of a kitchen.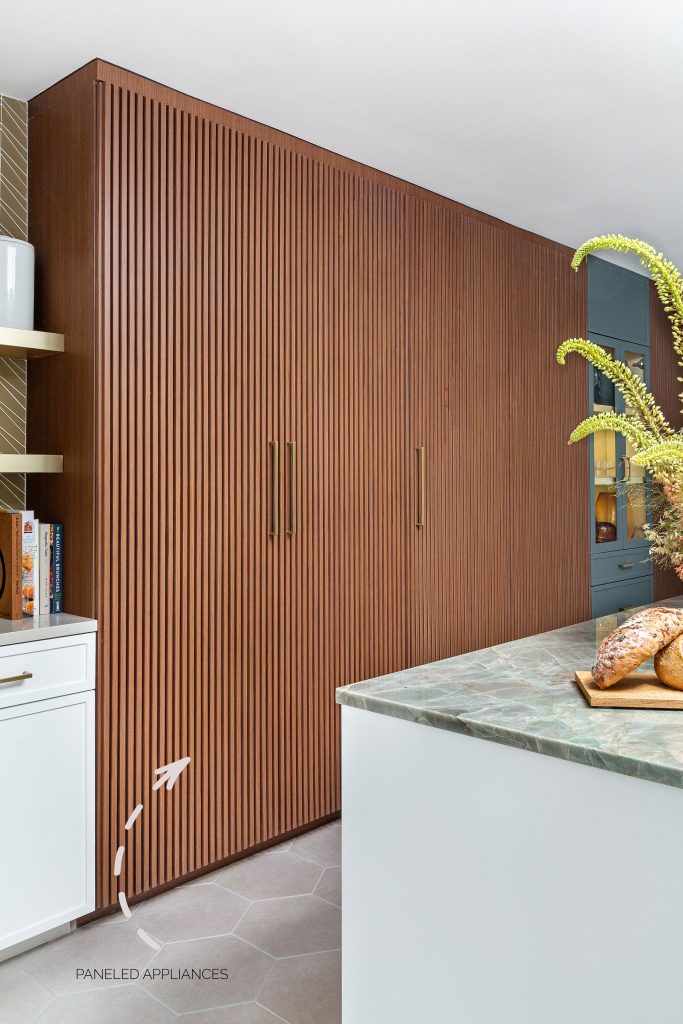 Paneled appliances make a space look seamless without losing any of the staples that every kitchen needs. Now, more than ever, you are able to conceal large appliances like refrigerators, freezers and dishwashers with a look and material that is superior in quality. This aesthetic often gives the kitchen a nice, modern feel with juxtaposed surfaces and tones. We previously mentioned paneled appliances in our post on Appliance Trends in Luxury Kitchens.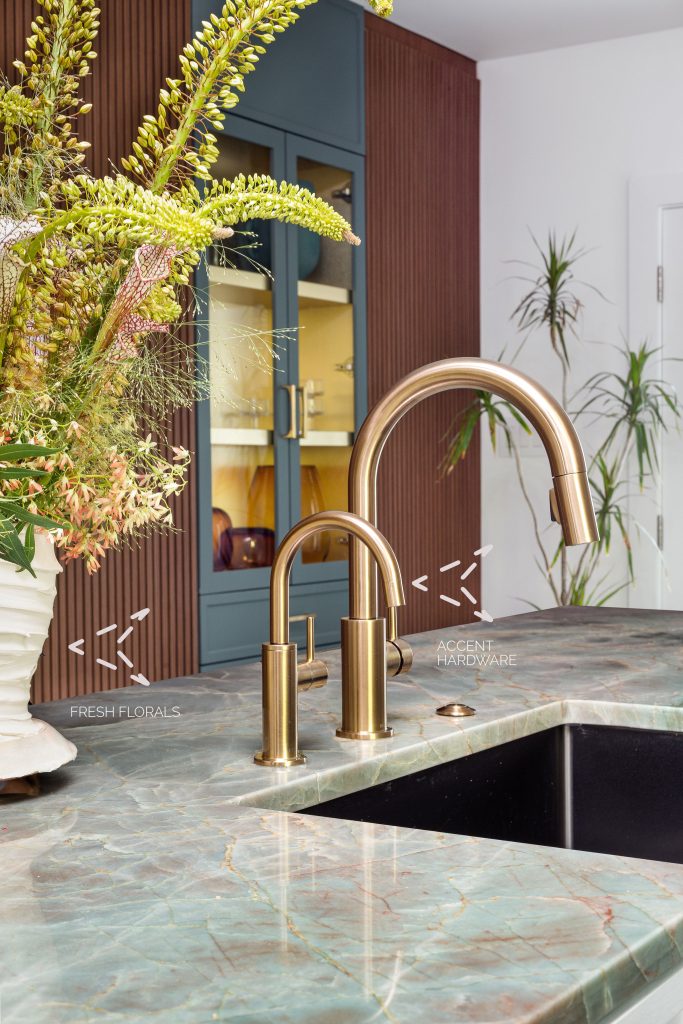 Keep your kitchen smelling fresh with fresh florals or fruit. The natural scents of eucalyptus, lavender or greenery (or a bowl of citrus fruits) will help the space smell crisp while helping to balance the scent of cooked meals or detergents / soaps. Not only that, but it brings additional life to a space that is already bustling with energy. Need a few tips to keep these blooms alive. Look no further than this nifty article from Food52.
Accent hardware works magic for a space. Whether it is the faucet, the pot-filler or cabinet pulls, hardware can help accessorize a space by adding a touch of character or color. Certain metal finishes give the space a particular look adding some contrast to often matte surfaces. If your cabinets or hardware do not have pulls, no worries. Let the faucet do the work as it stands as a focal point in the space.
Open shelving is not for everyone, but when used correctly, it helps open up a space quite nicely. Upper cabinets are often necessary and quite useful, but their clunky appearance tends to close off a space, making it feel smaller. With the open shelves, you can display dishes, glassware or accessories while helping the space feel airy.
An accent hood will become the anchor of the space. While being quite utilitarian, vent hoods have come a long way from what they used to be. Now available in a litany of materials, finishes and shapes, one can be selected for your space that complements the surrounding elements while still showcasing your sense of style and design. Vent hoods in a metal finish or stone add a touch of sophistication to an area of the kitchen that is frequently used.
And why not include some natural light in the space? It'll help keep those fresh florals happy and also shine some much needed light into the space. Whenever possible, we always recommend having a natural light source in a room. The textures of the surfaces are augmented while the natural light helps with mood and overall productivity.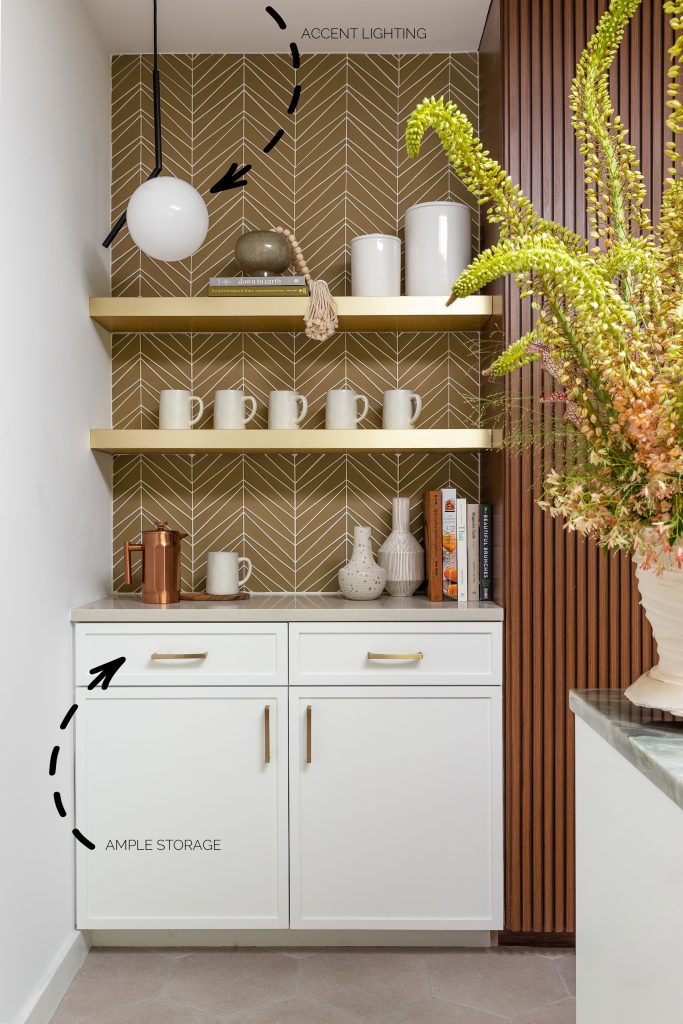 What is a kitchen without ample storage? Whether it comes in the form of shelves, drawers or cabinets, storage is the key to an organized and well functioning kitchen. A mixture of the above examples creates the perfect mix of visible and hidden storage.
Accent lighting will deliver the cool touch that is needed. While most kitchens will have a larger lighting piece and some can lights, accent pendants are a great way to add character (and lighting) to smaller nooks in the space. Whether it be a beverage bar, a breakfast nook or just an island, accent lighting is in!
Now that you know what we love in a kitchen, tell us what you love about yours!