The single biggest misconception surrounding spec houses is that they are boring but they can be staggering, award winning design moments. We're here to dispel that myth, showing you one of our recent bold, modern spec bathroom creations. Packed with unique texture, this minimal, masculine design aesthetic delivers highbrow luxury. We are thrilled to announce that Beyond Interior Design's primary bathroom project has received national recognition with the Interior Designer Society (IDS) 2020 Designer of the Year Award. With a major salute from one of the country's largest design organizations dedicated to serving the residential interior design industry, we thought we'd dive into the process of composing this exotic bathroom and award winning design.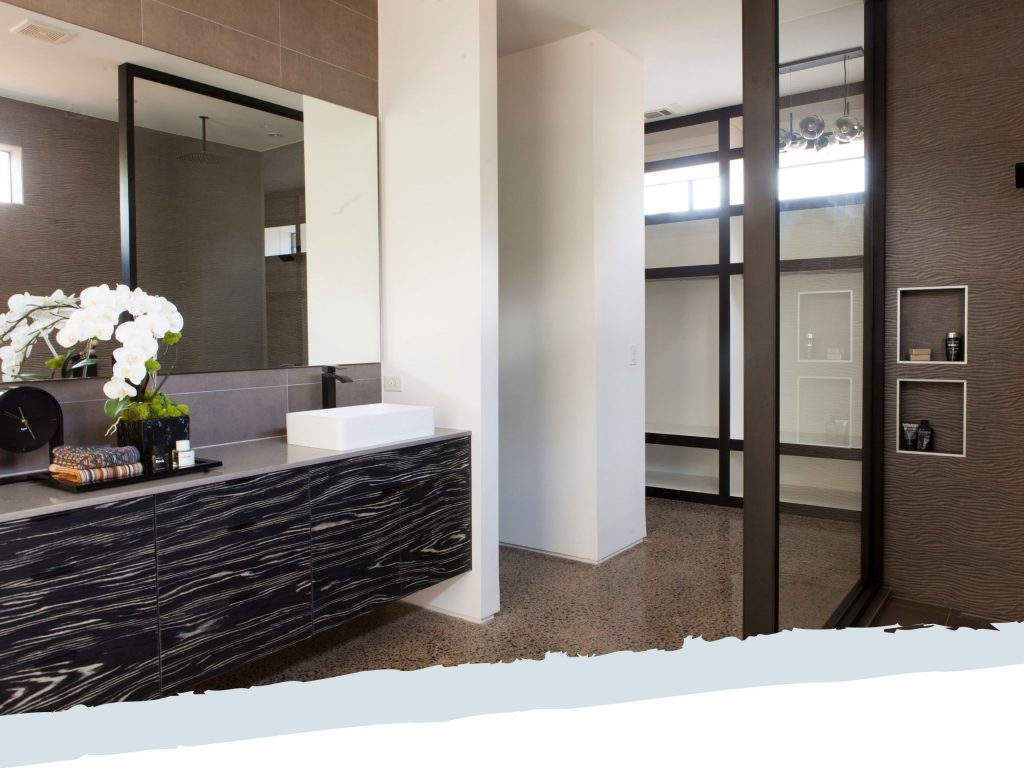 This project was developed in collaboration with Grand Development, in a series of modern spec homes. While these are investment properties, our principal designer Juliana Oliveira was determined to infuse elevated style while still appealing to a wide net of potential buyers.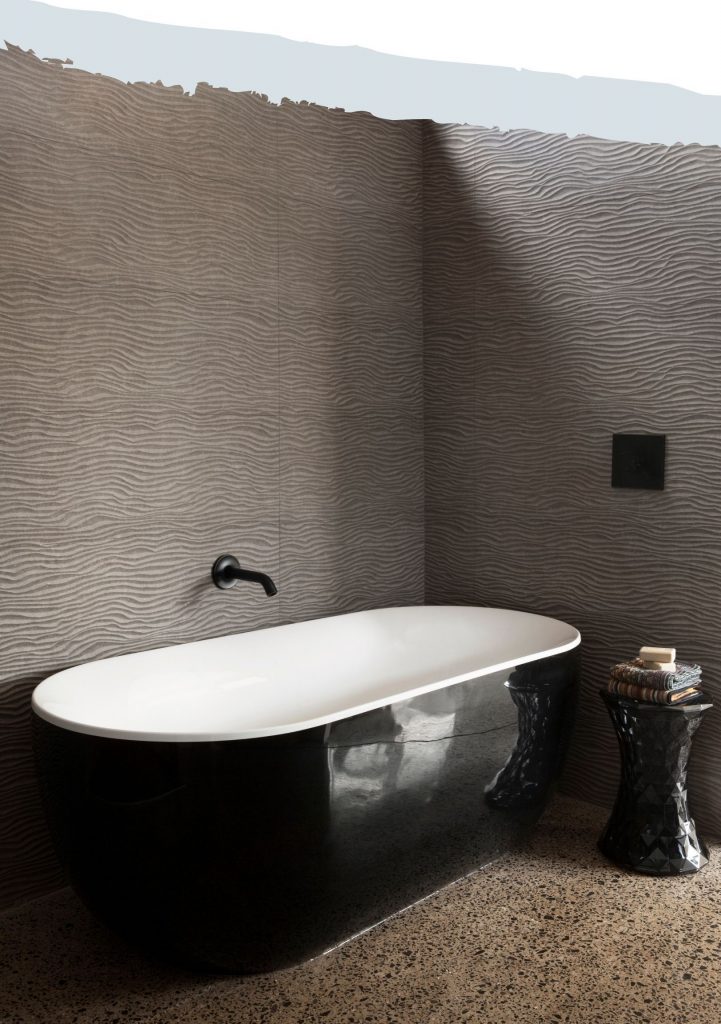 The showstopper of the home, the primary bathroom features layers of exotic textures, to create an edgy, modern spa. The space includes a marbled black and white exotic wood finish, three-dimensional tile accent walls, and sleek concrete floors. Not to mention the curbless shower surrounded by an exterior commercial window as shower glass and complimenting the glossy, black enamel bathtub.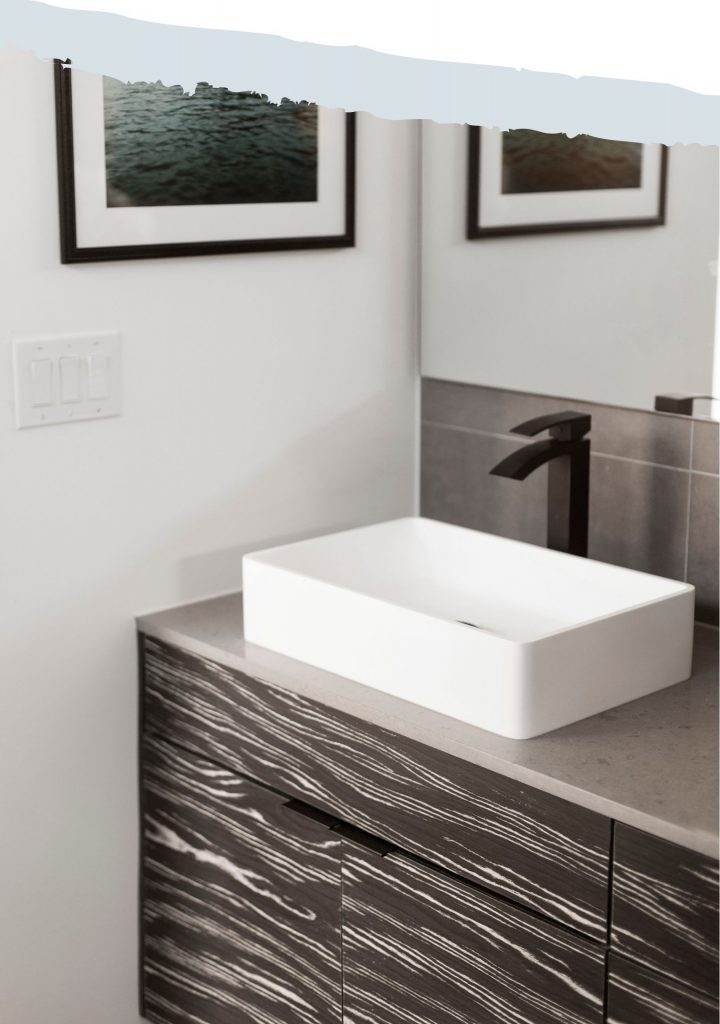 Curating this award winning design project in partnership, included several client wants we needed to fulfill, the most important being that the home attracts potential buyers: which is essentially what inspired the creation of the breathtaking spa for the ultimate wow factor. 
Our development partner, Akber Meghani shared, "I enjoy working with Juliana, she is a talented and dedicated professional designer with great knowledge, she took our project to the next level."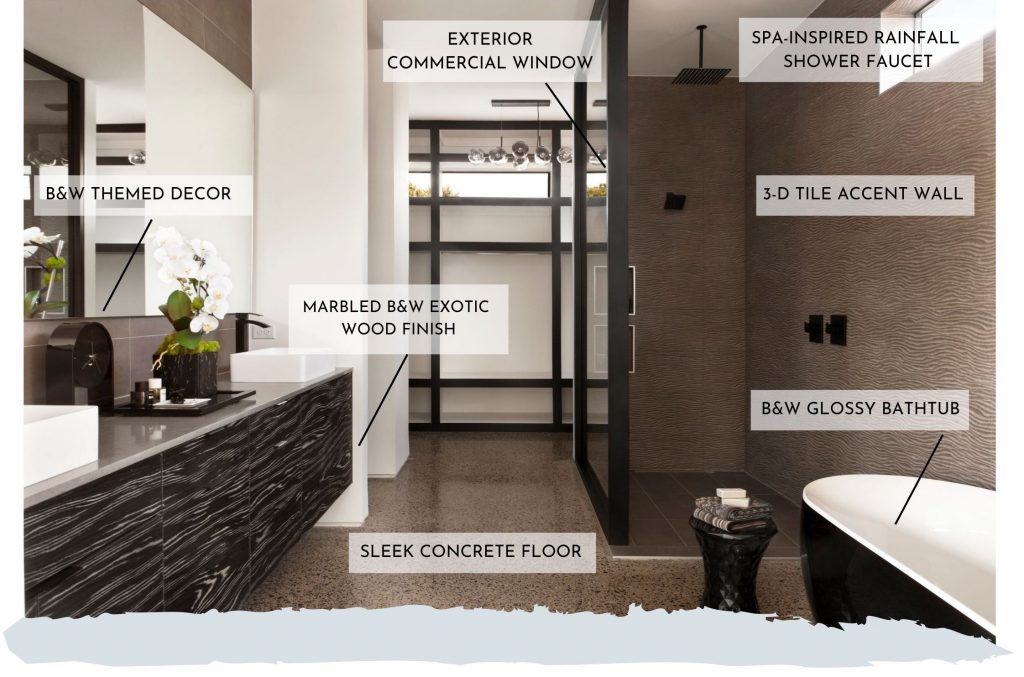 We also needed to ensure the transition between the dressing room and the bathroom spaces felt seamless. We painted the face of the cabinets in order to highlight the black finishes in the bathroom, creating consistency with continued elements throughout. The biggest risk was undoubtedly utilizing the exterior commercial window with shower glass, fortunately, it paid off in more ways than one! It exudes an organic, indulgent spa feel that inevitably caught the eye of a very lucky buyer. 
We are humbled by the Interior Designer Society's recognition, not to mention the incredible announcement and congratulations message we received from television personality and fashion giant, Miss J Alexander. We're focused on continuing to dispel the myths of pedestrian spec houses and deliver beyond expectations with more mesmerizing, award winning design moments like this.