There's nothing quite like visiting your grandparents, nestled comfortably on the overstuffed, patterned sofa, enveloped by the smell of something freshly baked with the sound of Turner Classic movies filling the background. Reminiscing a moment like this gives more than enough reason to understand the increasingly popular trend now known as, Grandmillennial style.

The term was coined by House Beautiful last fall, however, the movement has been on the rise for a few years with design-savvy 20 and 30-somethings taking serious notes from their older loved ones' homes to create their very own granny chic spaces. Experts credit the origin of this trend to the need to distract from negativity by leveraging nostalgia and comfort in new, fresh ways.
Now you may still be asking yourself, what in the world is Grandmillennial style. At first glance, the name doesn't evoke a clear image. But trust us, when you see these beautifully layered spaces balancing the vibrant, chintzy designs from past generations with the crisp, polished finish of our contemporary, present day, the word takes on new life.
During this old school renaissance, millennials are drawing inspiration from Victorian and English Country design, curating classic pieces and features that have otherwise been deemed outdated or old-fashioned. Think shapely, skirted sofas, glossy, cane furniture, gilded hanging mirrors, ruffled bedding and plenty of eye-catching patterns for walls and curtains to match. Smaller pieces that offer an instant Grandmillennial style boost include a bold ginger jar (get a pair for extra measure) and pleated lampshades throughout the room. Not to mention, adding extra flash to your window treatments with swag and tail details. Retailers have also followed suit, producing a great array of Grandmillennial offerings like this upgraded needle point pillow and this chintz floral wallpaper.
The secret to keeping these spaces from feeling stuffy is to balance the traditional elements with unexpected moments like contemporary art or a muted, neutral furniture piece. This ensures the space still has the essence of the warm, comfort felt while visiting a grandparent but with the modern luxuries of 2020. Take our recent photoshoot featuring our fierce founder for example, the cool, floral wallpaper and tufted, velvet couch create a Grandmillennial statement but feels current with the modern lighting.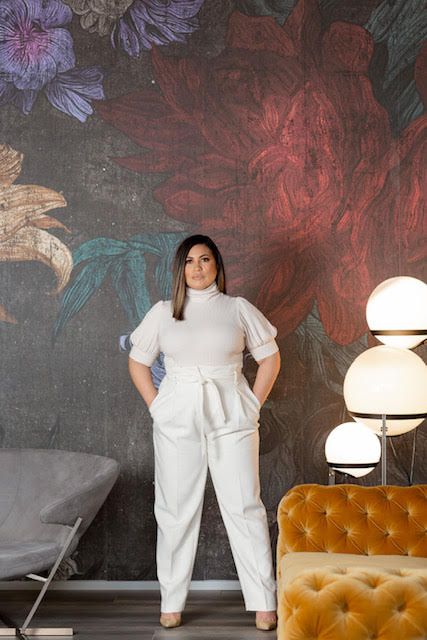 So while we are staying safe at home, now is the perfect time to rummage through those boxes stored in the far corners of the attic and see what gems have been hiding. Perhaps a forgotten antique, maybe a family hand-me-down that sparks memories of yesteryear, or if you're lucky, a vintage heirloom waiting to be put on display. If you don't happen to have a twentieth century treasure trove in your home, fear not, there are plenty of surefire pieces to discover online. Happy hunting!