Cobalt blue is considered a clean blue and is, interestingly, neither warm nor cold. According to Wikipedia, the first recorded use of cobalt blue as a color name in English was in 1777. It was independently discovered as a pure alumina-based pigment by Louis Jacques Thénard in 1802. Since then, the bright and jubilant color has been used in commercial production, paintings and ceramics across the globe. Now with modern design, you can find this pigment of blue used in items across the spectrum, from chandeliers and wallpaper to lucite tables. We searched high and low to highlight some of our favorite, cobalt blue design items. This is our Home Trends Forecast: Cobalt Blue
This particular shade of blue certainly has a boisterous persona. It is known for its bright appearance, but the color itself is considered stable and is quite compatible with other shades in the azure family. Although it plays well with other colors, this powerful shade can easily stand on its own. When used in design, cobalt blue helps create visual impact by dominating the space it fills, helping anchor that particular piece, no matter the size. Whether you may be looking for a smaller accessory piece, an accent table or a fun design addition that you didn't even realize you needed, we have you covered with our list of our favorite cobalt blue finds.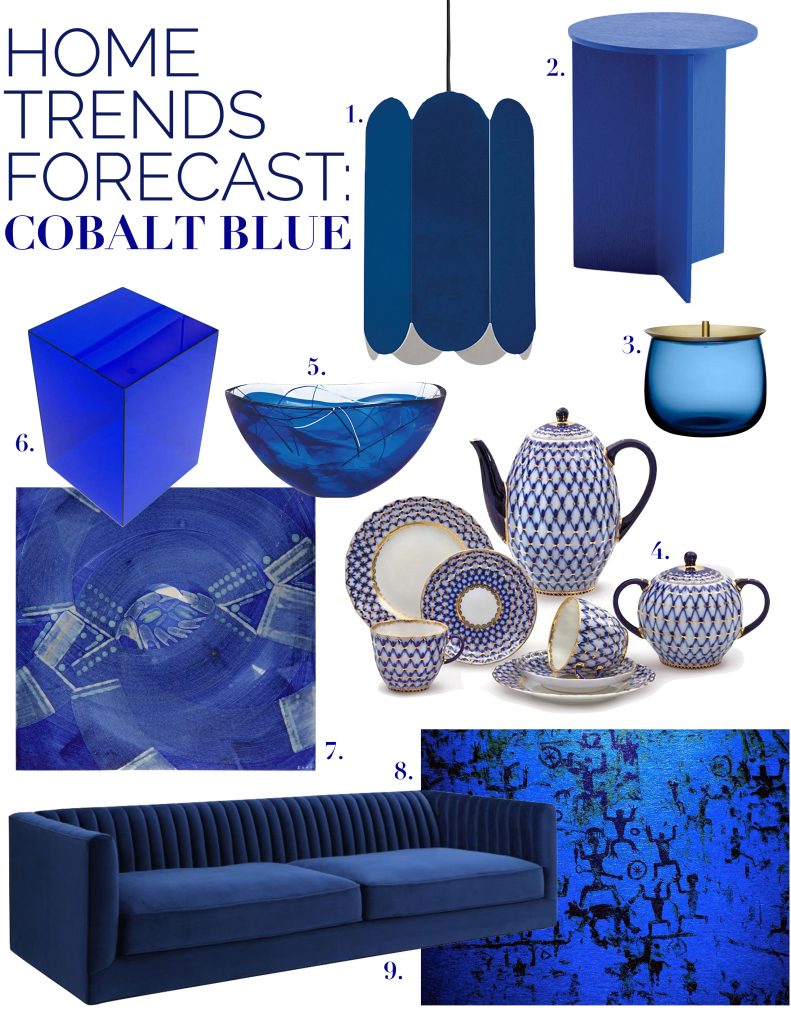 1. The Arcs Shade pendant by HAY is formed by a unified chain of vertical arcs that create a sophisticated scalloped silhouette. This versatile light fixture can also be used as a table lamp bringing a pop of color (and light) to any space. (available at us.hay.com $225)
2. The Wood Slit Side Table by Design Within Reach is a sculptural piece inspired by the art of origami. The table comes in a variety of shapes and shades and can be used as a single unit or clustered together. The bold color choice can accent a neutral seating area to bring a focal point to a more muted room. (available at dwr.com $295)
3. You know we love to accessorize and this Beret Storage Jar with Brass Lid is the perfect piece to add to a shelf, vanity or countertop. The glass shape is a nod to France's famous headgear and it is capped off with a brushed brass lid. You can't have enough small storage places to nestle away those mini treasures lying around the house. (available at allmodern.com $146)
4. This Twenty-Piece Porcelain Coffee Set is the epitome of luxury coffee time. The porcelain coffee set is accentuated with gleaming 22K gold accents for that opulent touch that your tabletop desires. Do you prefer one or two cubes of sugar? (available at saksfifthavenue.com $935)
5. Speaking of tabletops, this modern, crystal bowl is the perfect addition to any setting. As part of the Kosta Boda Contrast Collection, this accessory bowl is both functional and artistic and can be used on a console table at your entry or as an elegant fruit bowl. The bright hue and translucent appearance creates a statement piece without feeling too heavy or clunky. (available at bloomingdales.com $200)
6. According to Livingetc.com – luxe online marketplace, 1stDibs, announced that cobalt will overtake navy as the most popular blue hue in 2022. They were certainly correct! 1stDibs now features a Blue Lucite Side Table that can be customized in an array of sizes and color combinations. The accent table made of high-quality furniture grade lucite adds modern lines to a space while bringing a sense of vibrancy. (available at 1stdibs.com $1,190)
7. The Ceramica Pinto Large Blue Optical tile is a designer's dream! This abstract design was masterfully executed by painter Antonio Franchini. The design is carefully created by the hands of skilled artisans in Vietri sul Mare in the Amalfi Riviera. The natural movement using shades of blue and green gives this tile an almost kinetic aesthetic. (available at artemest.com $190/piece)
8. Another favorite from Artemest is this AbitaDecò Tribale Cobalt Wallpaper. The pattern of tribal warrior silhouettes is bold and modern, bringing a sense of life to any room. The wallpaper is hand-painted on high-quality, ecological paper adding a touch of sophistication to this already impressive print. We recommend using it in a room with more subtle design to let the wallcovering have its space to stand out. (available at artemest.com $295/sq meter)
9. What room is complete without an anchor piece? This velvet Aviator sofa is the perfect combination of style and design that commands attention. The pleated back adds exquisite detail while the Kiln dried solid wood frame and Lucite legs round out the overall look. This is the type of design piece that you place in a room and build around. (available at burkedecor.com $1,299)
What is your favorite Cobalt Blue piece from our Home Trends Forecast?