Our founder, Juliana, was working primarily out of her Uptown Dallas office and when her work from home office became redundant, she gave it to her son for a more spacious bedroom. Given the latest circumstances, she and the rest of our Beyond ID team have adjusted from the comforts of the McKinney Avenue studio to create make-shift spaces and reevaluate our existing home offices. However, with full houses and minimal spare space, this can be a daunting challenge.
Juliana, recently spoke with one of our go-to home design sites, Houzz, offering a peek into her new work-from-home (WFH) set-up and expert advice to make the most of any at-home workspace. Like so many, we're striving to create a serene, functional area to complete our work efficiently and without obstructing our plugged-off hours. Read on to discover how to refresh and curate a work-friendly home, with a home office or without.
1. Establish a Designated Area for Work:
Carving out a place for work items, devices and chargers to live is priority number one. 
It can be as simple as a decorative basket, a chair in your living room or a corner of your dining table, but ensure that the dedicated place is reserved for you to keep your work materials. Avoiding the urge to spread work gear across your home will make it easier to plug off during the end of a work day and reduce anxiety when trying to lounge at home in your free time. Not to mention your designated area will minimize clutter (check out our resident professional organizer's WFH mobile storage tips).
2. Utilize the Space You Have:
If WFH feels more long-term, then it may be time to go beyond your dining table set-up and establish a permanent office space. This may look like repurposing a coat closet, hallway or built-in bookshelf to include a desk and storage. As many of us are passing the time with home organization projects and purging, we are quickly gaining free closet space. This is a quick fix without giving-up any highly coveted real estate in your home.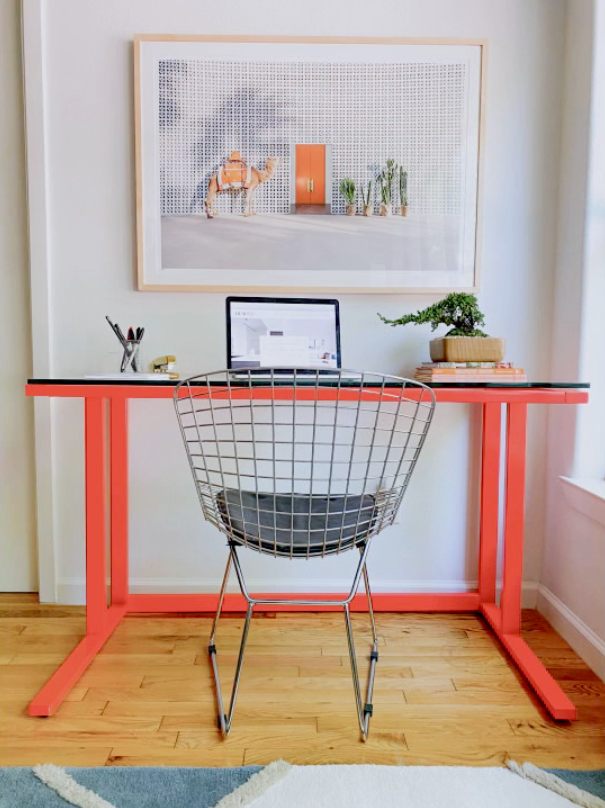 3. Choose the right Work From Home desk:
If a new desk is in order, the selection process is crucial. We recommend steering clear of materials and designs that feel heavy or bulky. Instead, opt for lighter materials like acrylic and glass. A clear, clean lined desk can easily be tucked away in an underutilized corner of your home without feeling cramped. Choosing a work desk with thin legs also minimizes distraction and attracts the eye upward, creating a feeling of open space. Here are some of our recommended desks for smaller spaces: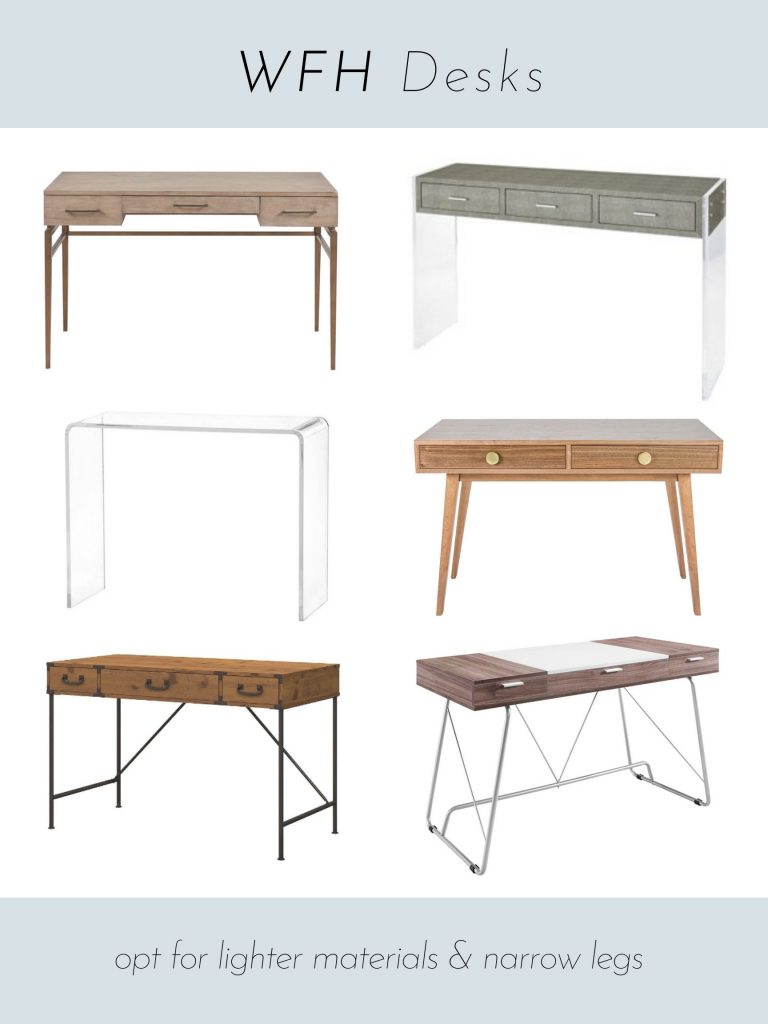 4. Refresh Your Current Work From Home Office:
For those ahead of the curve with a home office, now is the chance to decide what is functional and what can be improved. Dedicating time to create an optimal space is sure to aid productivity and serve as a mood booster (even on those especially long days). Position your desk near a window to take in the view and take advantage of natural light during video conference calls. Adding in natural elements like fresh plants can also liven up an office space and offer some serious health benefits.