It isn't every day that we cast the spotlight on ourselves. However, when one of our favorite projects was completed and finally photographed, we jumped at the chance to showcase the brilliant talents of our design team. The client challenged us to create a design with a feminine and bold aesthetic. As a content creator, she wanted her space to have an overall cool vibe that was both confident and sexy. Let us show you our Project Spotlight: Harwood project. We'll let the photographs do most of the talking.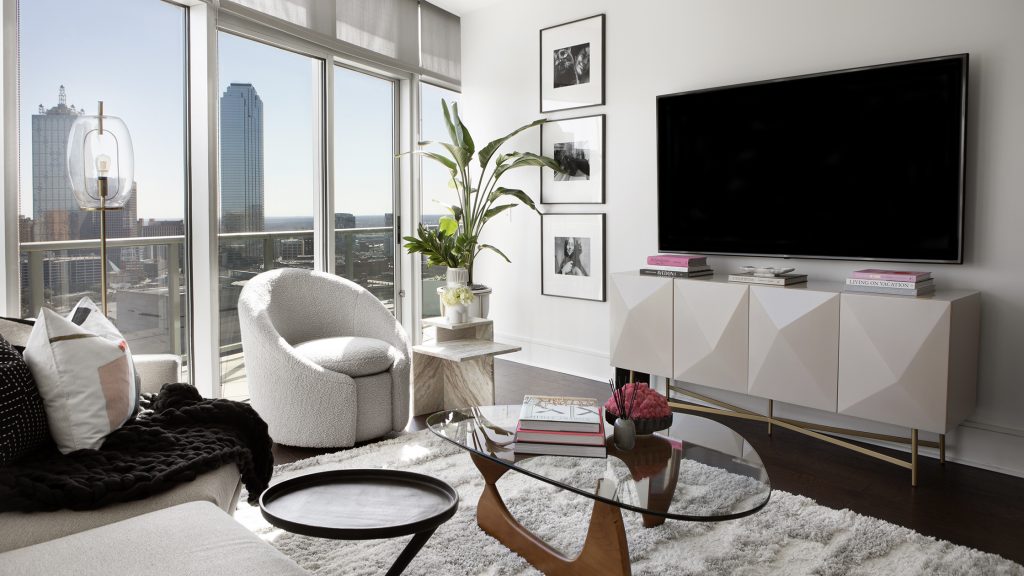 We start with the living space with a lounge nook. This is the room that sets the tone for the rest of the home boasting natural light and a stunning view of downtown Dallas. The living area offers the perfect mix of design essentials and luxury accommodations. A pouf swivel accent chair, a Surya rug, a mid-century, geometric coffee table and the ideal combination of textures and surfaces help anchor the space with an eclectic and functional vibe.
The lounge nook extends from the living space to create a restful haven which includes a rose chaise lounge by TOV and a stand side table by Universal.
The bedroom should be the oasis of any home. It should provide comfort and functionality with a calming aesthetic that promotes overall relaxation and wellness. We are obsessed with this bedding from CB2.
Leaving no wall uncovered, we turned this side of the bedroom into a functional, style-savvy enclave equipped with a full length mirror and boutique-style accent shelves to display key wardrobe accessories.
Because a typical office just isn't enough, we created a space that was dual purposed. An office desk and chair (not shown in photo) for business and a vibey, Instagrammable vignette for play. The soft textures of the sofa balance the tougher exteriors of this wide, full length mirror and metal wardrobe (shown in photo below). All of this capped off by whimsical fashion art and the coolest neon sign. Send at your own risk.
What is your apartment vibe? We'd love to know!