The holidays are here and the unspoken, but very well known, battle of the holiday windows has begun. For decades, fashion powerhouses across the nation have spared no resource to deck their storefront windows with the most opulent and holiday festive designs possible. It is a yearly event, and tradition at this point, that many look forward to. This merry partnership is where design and high-end fashion intersect resulting in a stunning display of creativity, luxury and whimsical design. In an effort to outdo each other, each year the windows get brighter and brighter and more eccentric. And we are definitely here for that friendly competition! Let the pomp and circumstance begin as we explore the spotlight on holiday window displays.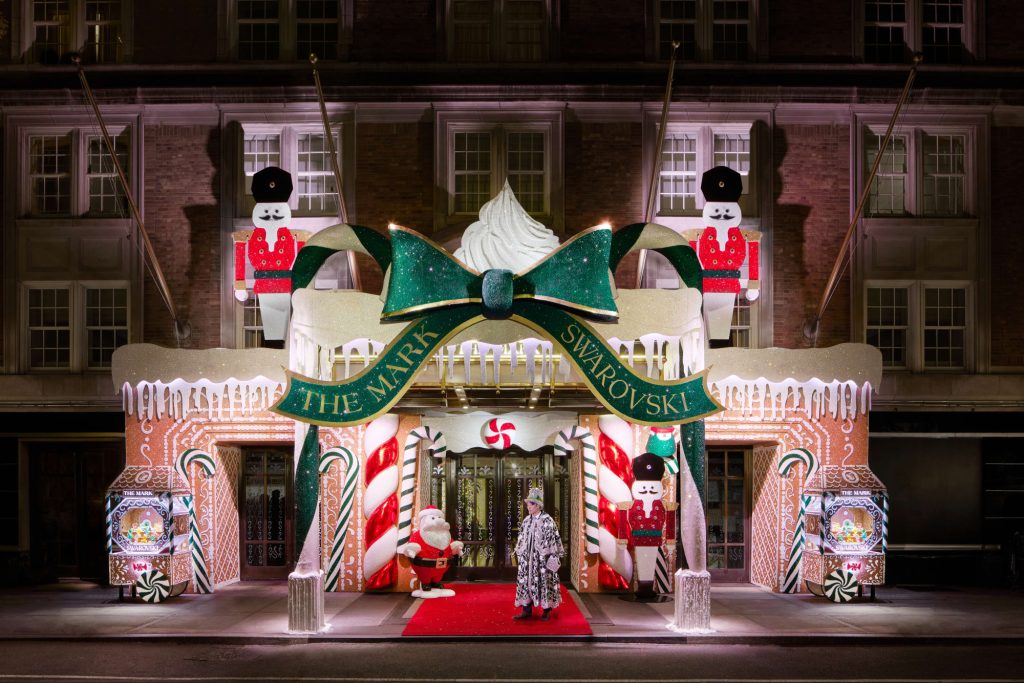 The Mark Hotel, an icon in New York City, has been transformed into a holiday wonderland filled with lights, nutcrackers and a massive gingerbread house. Designed by Swarovski Creative Director Giovanna Engelbert, the hotels façade has been converted into a glittery, sweet delight coupled by two matching candy carts by the entrance that sell hot chocolate and edible crystal lollipops.
The gingerbread exterior is made of millions of toffee-colored Swarovski Crystals. Its roof of "frosting" is made from hand-sculpted and crystal-dusted fiberglass. The festivities do not stop at the entrance. The holiday cheer continues throughout the lobby as a magnificent Christmas tree adorned with crystals acts like an anchor for the indoor decor. At the trees base, lie green Swarovski holiday boxes.
The Swarovski holiday installation will be at The Mark, New York, from November 14, 2022, to January 7, 2023.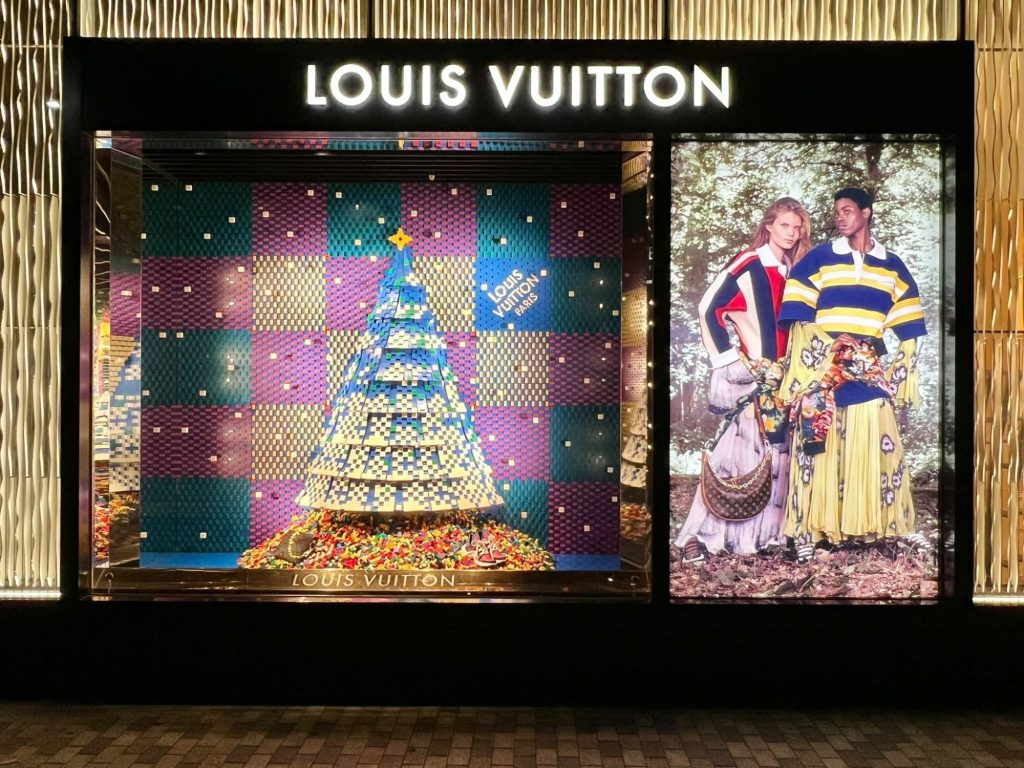 This Louis Vuitton x LEGO partnership is the duo we never knew we needed! The geometric, building icon and this fashion powerhouse brought their spectacular vision to life in window displays across the globe. "The colorful three-dimensional scenes were conceived by the Louis Vuitton Visual Image Studio and realized by the LEGO Certified Professionals, continuing a creative exchange that began with a 31-700-brick birthday cake made for the fashion house's bi-centennial Louis 200 Trunk series", as quoted in Hypebeast. Some of the exterior designs span upwards of 45 feet truly helping bring this block vision to life.
The LEGO installations can be seen until January 1. In case you are wondering what will happen to the LEGO blocks after the holidays, they are going towards a good cause. The block will be repurposed to inspire kids in local schools.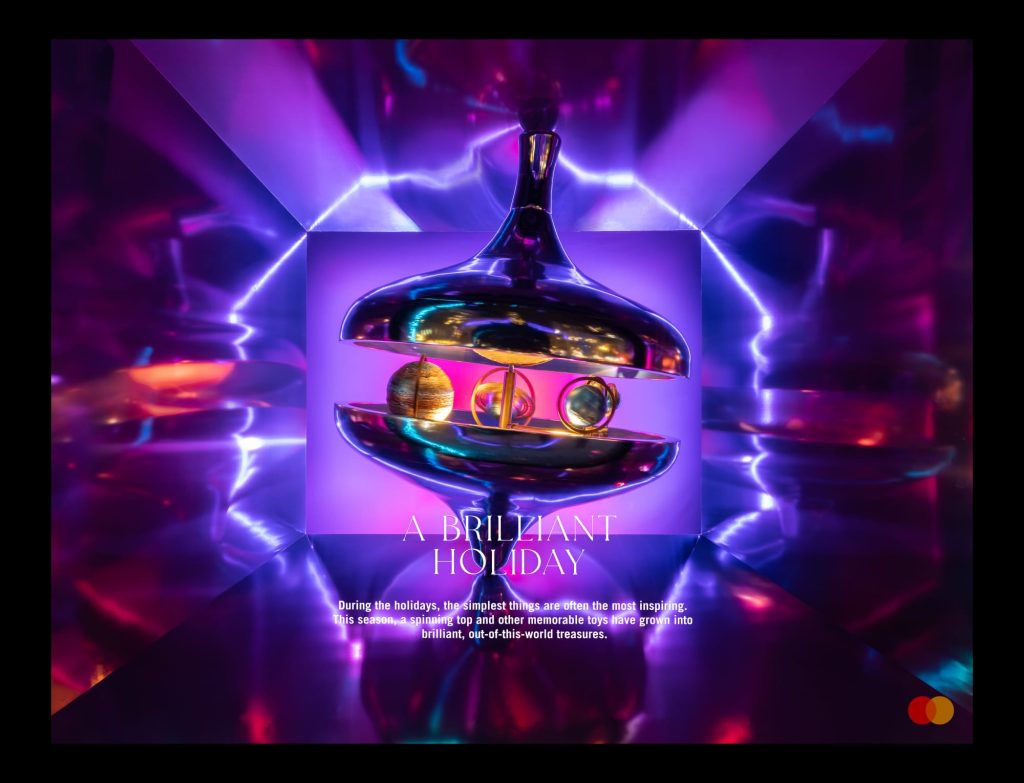 Saks Fifth Avenue pulled out all of the stops with their holiday partnership with Elton John. The Saks Fifth Avenue x the Elton John AIDS Foundation holiday windows were a spectacular display of creative brilliance and ultra luxe design. The New York City-based fashion store made a $1 million donation to the singer's AIDS Foundation Rocket Fund and helped curate a holiday merchandise collection that boasts designers, including Gucci, Versace, Valentino and Jason Wu. With a show stopping light display and a performance by Sir John himself, this was definitely a night to remember. Fun fact: The Saks's light show and display windows took more than 250 people around 40,000 hours to complete.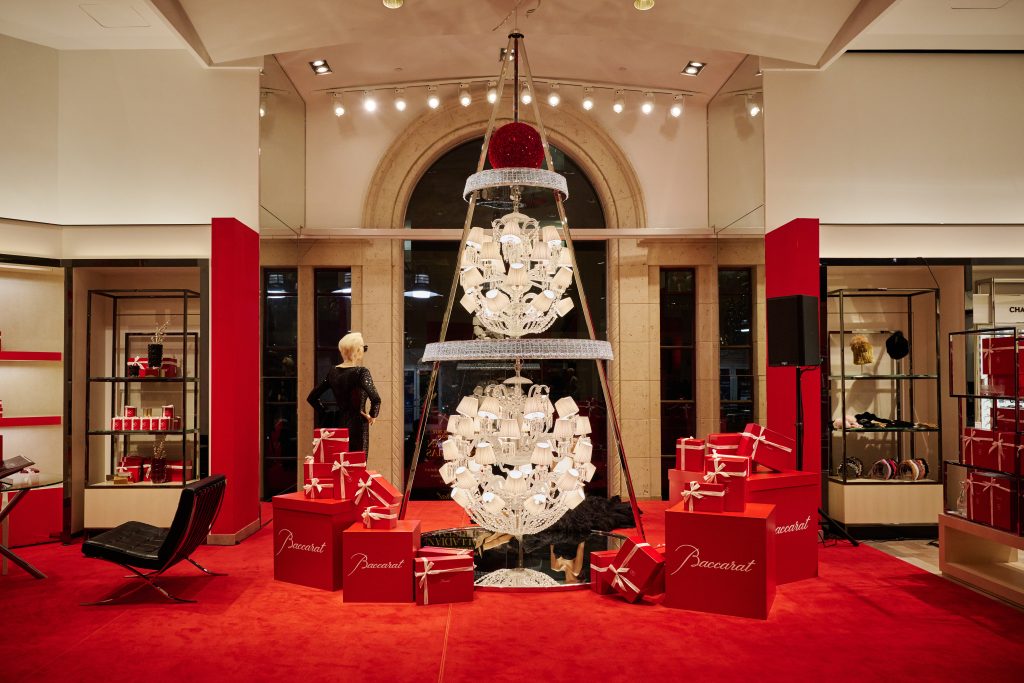 Not to be outdone by their haute couture fashion nemesis, Neiman Marcus didn't sit back to watch Sir Elton light up the Fifth Avenue sky with his window displays. The team at the Dallas-based fashion empire was too busy launching their own window spectacle. Neiman Marcus, in partnership with Baccarat, launched of, one-of-a-kind, Palladian Tree by Baccarat and exclusive installation at Neiman Marcus Downtown. To celebrate this momentous occasion, a cocktail party was hosted by no other than Martha Stewart and some of the Flagship stores closest friends. The ultra-reflective Palladian Tree by Baccarat showcases Baccarat's spherical Le Roi Soleil Chandeliers, embodies the energy and celebration of this special time of year.
The Palladian Tree by Baccarat, and exclusive Baccarat experience will be displayed at Neiman Marcus Downtown Dallas from November 15th through December 24th.
Which windows are your favorites? We may be a bit biased towards our Dallas-based neighbors, but we vote for Neiman Marcus! Leave us a comment and let us know which ones you would choose as your favorite.