Monolithic Design is the use of a single type of material, usually stone or metal, that is carved, cast or chiseled to create masterful pieces used in interior design and architecture. The minimal, often monochromatic, designs showcase modern angles, lines and curvatures that anchor a space while not dominating the surrounding elements. While most often used in architecture, monolithic designs can be found in interior pieces and outdoor sculptures alike, boasting the versatility of this artisanal technique.
Monolithic Design in Sculptures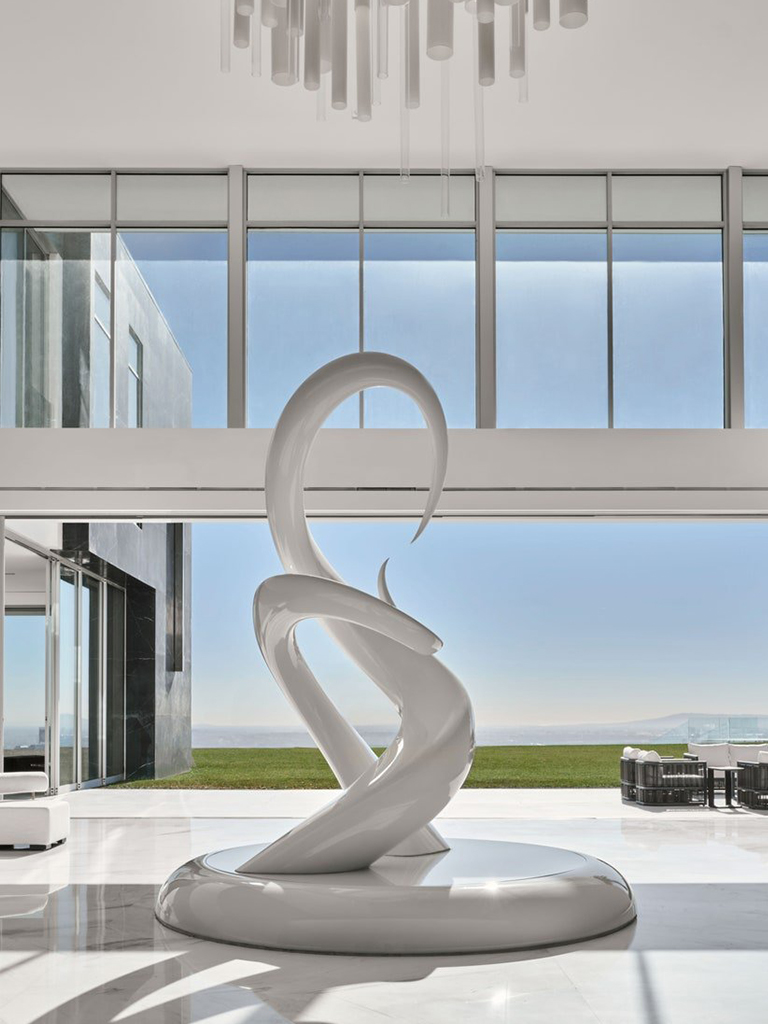 When you think of a sculpture, one often thinks of limestone statues in a park or an alabaster art piece in the Louvre. Now let your imagination expand into a world of larger-than-life objects of art that can elevate any space, both indoors and outdoors. Traditional Sculptor and Designer, Mike Fields, has decades of experience perfecting his craft. His accuracy and exceptional craftsmanship allow him to create contemporary art that defy any rules set by the art world. Unity is one of Fields' renowned sculptures that is currently being displayed in "The One," a 105,000-square-foot mansion in Bel Air, by Nile Niami of Skyline Development and designed by Paul McClean (McClean Design).
The contemporary sculpture stands 11' tall and is set on a rotating pedestal in the foyer of this 500 million dollar home. Sounds like a steal, right? Unity can be cast in bronze or in a 316L stainless steel with near-flawless precision. Sculptures such as this allow the aesthetics of monolithic design to be featured outdoors or brought indoors, providing stunning views with a more modern twist.
Monolithic Design in Architecture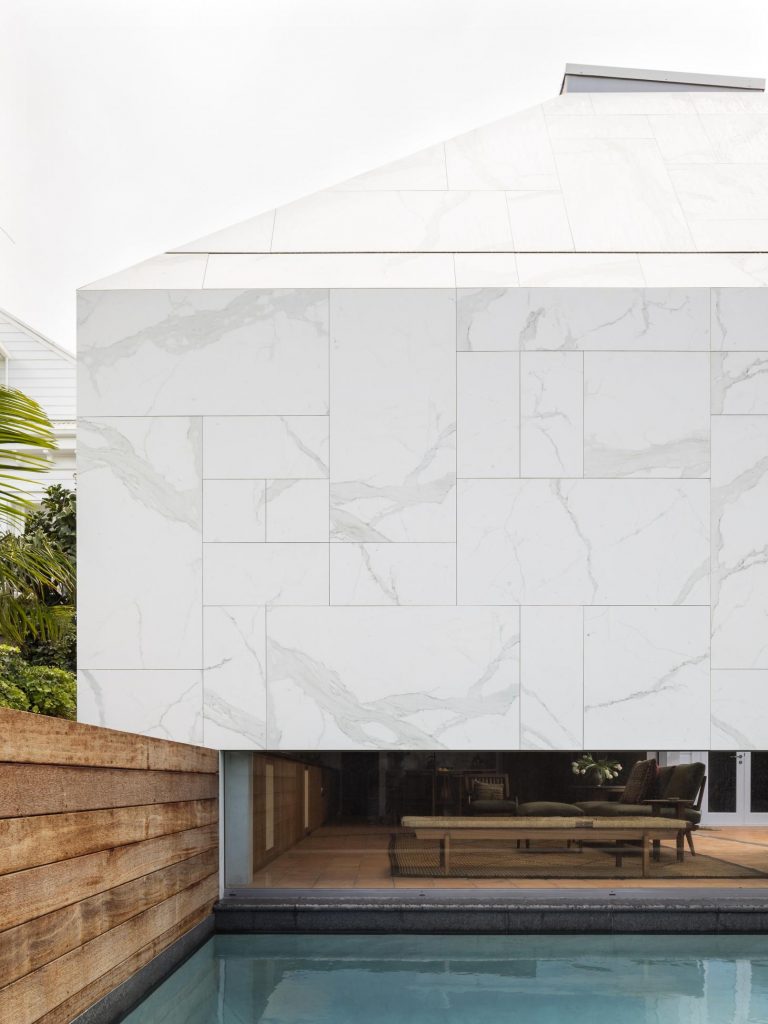 Just like monolithic design can be featured in sculptures, it can also be found in architecture. The use of a single material to exhibit the appearance of a seamless facade allows this technique to be used in ultra modern buildings, both residential and commercial. Most often seen in concrete or metal, the muted edifices act as massive art installations sitting on land. Franklin Road House in Auckland, designed by Jack McKinney Architects and Katie Lockhart Studio, is a monolithic marvel as quoted by Wallpaper. The family home features a contemporary, monolithic rear addition that acts as an entrance by the modern garden. The light-colored stone is a contrast to the natural wood that it meets along the pool providing a back entrance to the ultra-minimalist design in the interior of the home. The extensive use of wood and plaster in the home's interior creates the perfect juxtaposition to the cool, hard surface of the exterior renovation. The proximity of this stone to the outdoor pool water also provides a subtle balance between the inflexible surface of the wall and the fluidity of its counterpart.
Monolithic Design in Furniture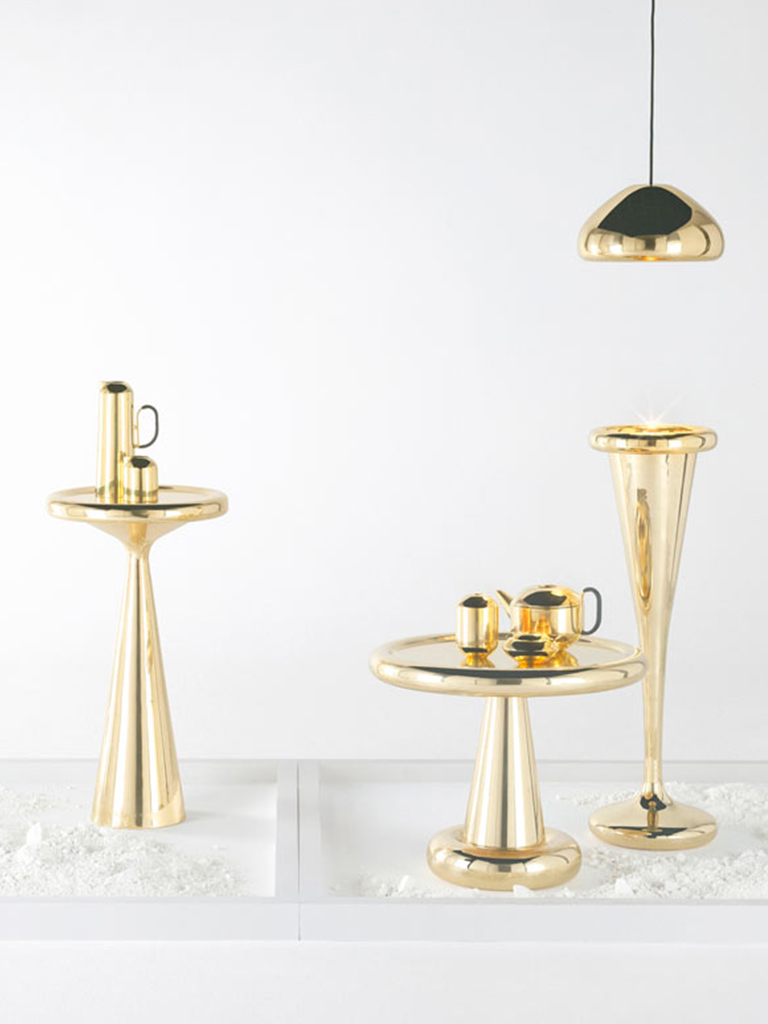 Monolithic design is not only for the exterior of a building or garden. You can bring similar pieces into your personal space that will act as a statement piece to balance any color or texture in a room. Most often seen in larger items like coffee tables and benches, the monolithic inspiration can also be noticed in smaller elements such as consoles and drink tables. Tom Dixon has launched a new furniture and lighting collection that design milk described as "monolithic house jewelry." If that isn't the most vibrant (and quite accurate) description for this collection (shown above), I don't know what is.
The collection, which also includes metallic light fixtures, bookshelves and stools, is unified by the continuous use of single materials for each item, giving each piece a unique and uniform look. In case you thought we could go one week without mentioning one of our favorite designers, we are here to prove you wrong. Kelly Wearstler's Roxbury Petite Console delivers every aspect that we would expect from a monolithic piece. The multi-arched piece is made of lightly wired wood and has the minimal aesthetic that you would expect. A similar piece is offered in marble for a darker and heavier look. By the way, the matching shelf is also available, in case you are jotting down your design wish list. Continue reading about our obsession on Kelly Wearstler in our Luxe Lighting post.
What is your favorite use of monolithic design – is it architectural, sculptural or interiors? Let us know!