We all could use a bit of relaxation in today's busy world. But making time to go to a spa for some much needed R&R can feel more like a task than an escape. Why not get some of that peace and quiet at home in your own wellness retreat. Some may call it a master bathroom, but we like to call it your personal in-house spa with all of the essentials you need to find your inner peace. We have our list of key features that you can have in your own bathroom that'll create the serene oasis we have all been dreaming of.
When choosing your cabinets, opt for a wood-like surface. The use of surfaces that resemble natural elements can help to make this space, often known for being cold, more soft. While we are on the topic of nature, be sure to bring the outdoors in. Even if it is just one plant, the use of greenery softens the space while giving it that spa feel. We would be remiss if we didn't mention the many benefits of plants in the home, but you can read about those here. If you have some sort of natural light in your master bathroom, an orchid can truly thrive. The filtered light coupled with the moist air allows this plant to flourish in this environment.
Speaking of natural light, a bathroom could always use this added touch since it is a space known for privacy. More often than not, that means closed doors and shuttered windows. Introducing a frosted window, floor to ceiling whenever possible, is a creative way to have a piece that is both design friendly and utilitarian. It allows for the light to come into the space while still offering privacy.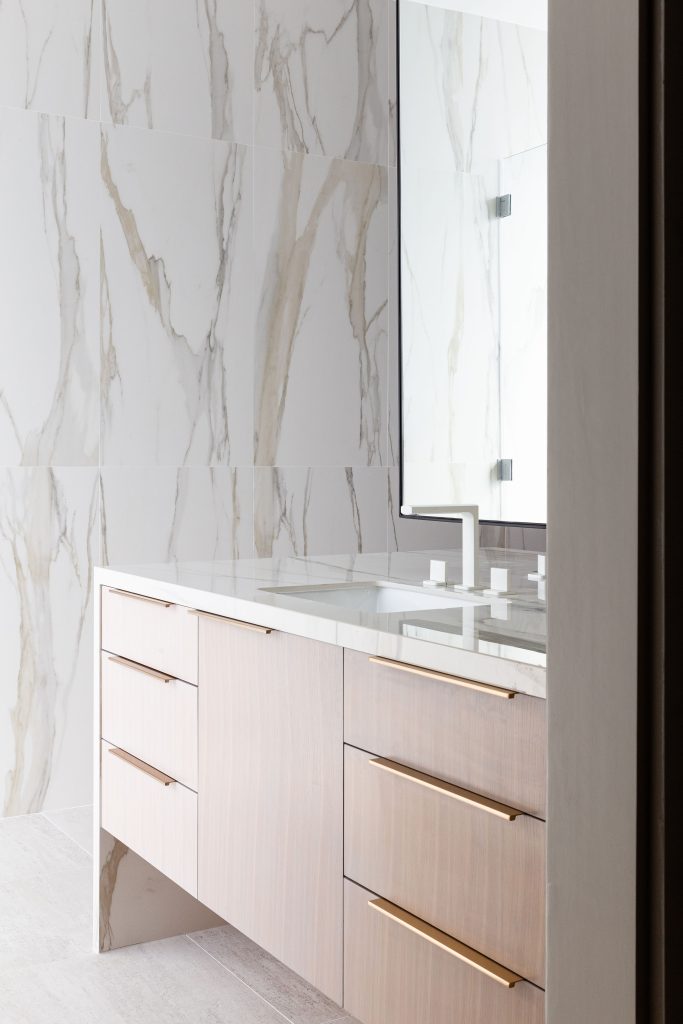 The selection of color can make such a difference in a bathroom. Choosing whites, natural tones with hues of ivory, light gray or mauve make for a very calming space. Bright colors often heighten your senses so having more of a muted palette allows you to relax your mind, body and soul. If you are selecting flooring and wall color, opt for similar tones for both surfaces. The use of like-minded colors will not only make the space look larger, but it'll allow for you eyes not to be directed towards a particular bright surface or heavily textured object. Again, fluidity of the space, both in color and texture, plays an integrate role in providing a relaxing and zen-like space.
Not looking to fully remodel your bathroom, but you still want your own wellness retreat? House Digest has some great tips to help you achieve that feeling without involving a demolition crew.
Does your bathroom feel like your own personal spa? We'd love to know!